A happy holiday for you and your pet
---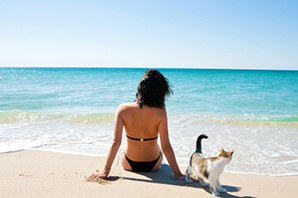 Are you taking your dog or cat away with you this year? If so, you'll be among the 23% of pet-owners that can't imagine leaving their animal at home*.
Here are some ideas for making your break as stress-free as possible, whether you're taking your pet with you or not.
TAKING YOUR PET AWAY? DON'T FORGET TO...
1. Make sure your animal has been wormed and that its annual vaccinations are up to date.
2. Know your pet's recently clinical history and allergies.
3. Pack any prescribed medication that your pet is currently taking (and make sure you have enough for the entire trip!).
4. Print out a pet travel insurance claim form and double-check your policy is up to date.
5. Remember to pack your pet's collar and identity tags.
6. Bring along your pet's favourite toys as well as lead and pooper-scooper!
7. Take the telephone number of your veterinary surgeon along with you and find the nearest vet to where you're staying.
8. If you're travelling abroad and you don't speak the language, seek out details of an English-speaking vet before you leave.
9. Ensure you have a good supply of food, feed bowls and treats as well as their bed and blankets.
10. Bring enough water for your pet to keep them hydrated on the journey.
AND, IF YOU'RE TRAVELLING ABROAD...
Most Petplan policies include travel insurance for 90 days within each policy year. This cover applies when your pet is travelling to a country that is part of the EU and is included in the Pet Travel Scheme (PETS). As long as the PETS conditions are followed, your pet is insured just as he or she would be at home. For more on the PETS scheme, visit https://www.gov.uk/take-pet-abroad.
OR, TRAVELLING WITHOUT YOUR PET?
If you'd rather leave Fido or Kitty at home, Petplan has produced a guide to choosing a holiday carer for your pet.
Happy holidays!
* Research conducted for Petplan in June 2011 by OnePoll, surveying 1,000 dog, cat and rabbit owners
Don't forget to share your memorable holidays with your pet in the comments section below
---