Christmas presents for pets
---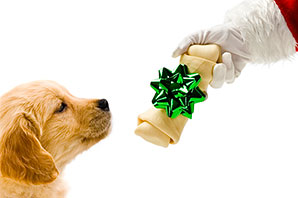 What treats has Santa got in store for your dog, cat or bunny this year? Sophie Mackenzie finds out about great gifts for your furry friends this winter.
A pet isn't just for Christmas, but many of us like to make the festive season as special for our furry friends as it is for us. Home-made treats, new toys and even seasonal outfits will be wrapped up and put under the tree for our companion animals - and some owners are lucky enough to receive presents from their pets, too.
"We're quite tragic when it comes to the kitties and Christmas," admits Sarah. "Every year we buy them little jars of crab and lobster paté, and they get new toys too."
Sarah's pampered pussies aren't the only pets who get spoiled by Santa. Paddy is planning to treat his dogs to matching festive collars and new coats to keep out the winter chill. Susan has bought a cat-sized stocking for Toffee, which she plans to fill with upmarket foodie treats. And Christmas started early for Sandra's two house rabbits, who have already opened the last door of their bunny advent calendar, which contains healthy yoghurt-based treats.
The long nights and cold weather have inspired manufacturers to dream up a host of seasonal presents for pets, including illuminated toys for dogs to play with on night-time walks, snuggly Christmas pudding beds for bunnies and catnip reindeer for the festive feline in your life.
Remember, though, that not all human food is suitable for pets, however much we want to share the festive cheer, and chocolate is toxic for them. While a few scraps of smoked salmon or turkey will be welcomed by cats and dogs, and bunnies will appreciate a brussels sprout or two, over-indulgence at Christmas will leave your pets feeling as poorly as it leaves you. Read our blog on the 12 tips of Christmas with your pet to find out more about the pet precautions that should be taken at this time of year.
If all the cooking, freezing, decorating and wrapping that keeps us busy in the run-up to Christmas isn't enough, some animal-lovers even manage to find time for home-made pet presents. Take a look at the Battersea Dogs & Cats Home website and you'll find recipes for tasty meatballs, carrot cake and even bacon truffles for dogs. Cat owners keen to spend even more time in the kitchen can whip up tuna treats and mackerel munchies.
You don't have to be a keen cook to make presents for pets. If you're handy with a needle (or two), you can find patterns for knitted dog jackets and Santa hats for cats. And when you've finished wrapping your presents, cut the cardboard tubes from the wrapping paper into 15cm lengths and stuff them with hay for a bargain toy that will keep your bunny happily entertained while you tuck into dinner.
Luckily for us owners, many pets are happy to return our generosity. "Our cat Shrek always sends us a Christmas card," says Alison. "He writes in it very neatly, considering he doesn't have opposable thumbs!" Purrs is planning to make up for all the fur she's shed during the year by presenting her owners with a cat-shaped clothes brush, while Puffin gives his people hand-painted fish-shaped chocolates.
Will you be buying your pets toys or just giving them first dibs on the empty boxes and discarded ribbon? And are you going the extra mile and making your own pet presents? Tell us in the comments.
---