How to prepare your home for a new pet
---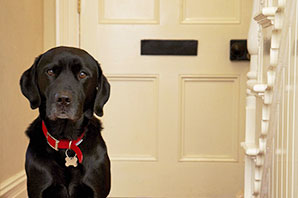 Introducing a new pet to your home for the first time can be daunting for our furry friends.
Your pet will most likely be both nervous and excitable, and you'll want to make sure he or she is as comfortable as can be.
This takes time and some forward thinking to prepare your home.
Here's some advice on putting your new family member at ease.
Before they arrive
Just as you would prepare your home for a new baby, you should do the same for a new pet.
Choose a room for your pet where they can be kept for the first few weeks to adjust to their new surroundings and feel safe and comfortable.
However, if your new pet is a kitten, avoid a room with full-length curtains, as your kitten could run up them and perch at the top.
It is also very important to be aware of potential hazards around the home as pets can get into very small spaces! Some tips to avoid potential hazards include:
Block up gaps behind kitchen appliances and under fitted cupboards
Screen off open fireplaces
Close all external windows and doors
Place cleaning fluids, disinfectants and medicines in cupboards
Place electric cables out of reach so your pet can't get tangled up in them
Close toilet lids
Remove fragile ornaments and any tiny objects that could be swallowed
Remove all items that may be knocked over (such as vases or glass ornaments) or that could be chewed on (such as reading glasses or books)
It's also important to remember that certain plants can be harmful to our furry friends.
If you enjoy having flowers around to add colour to your home, avoid having lilies, poinsettias, azaleas, amaryllis and ivy, which can all be poisonous for animals. If you're unsure, double-check with your vet.
When you bring them home
Although you'll want to introduce your new pet to all of your friends and family, don't be tempted to invite everyone round straight away. They may be a little anxious; remember they are in a completely new environment. The initial 24 hours should be a calm period of adjustment, so any children in the household should understand that your new pet should be left alone for a while.
Wait a few days so that they have time to settle in, and then allow family members to visit individually rather than all at once.
It is important to let your pet explore the house so they become familiar with their new environment, but make sure you keep a watchful eye on it – just like babysitting!
And if they hide, don't coax them out; spend time in the room reading a book or watching television, for example, to get your new family member used to your presence.
Check lists of items to buy before they arrive
Food and water bowls: For cats and kittens, position these away from each other, and at a distance from the litter tray. For dogs and puppies, heavy ones are best so that they can't be knocked over.
Pet food: Try to feed your pet the best-quality food that you can – but when introducing new foods, do so gradually. Ask your breeder or vet for advice on food.
Cat litter and litter tray: Use unscented litter, and place the litter tray away from food bowls.
Carrier/basket: Ideal for taking your new pet home and for visits to the vet. Put a washable liner inside.
Scratching post: For cats and kittens – this could save your sofa and carpet!
Toys: Get toys that you and your pet can play with together.
Chew items: These are essential for puppies to help with teething, and in general for dogs to prevent them chewing your shoes.
Grooming equipment: This includes a brush and comb, especially good for longhaired breeds
Collar and lead: For dogs/puppies, accustom them to wearing a collar and lead in the home and garden - it should help make those first walks much easier.
Thermal bedding, heat pads and blankets: This is for your pet's comfort – especially on the first few nights in their new home.
Pet insurance: Last but not least, consider insurance to cover unexpected illnesses and injuries. Petplan offers policies to suit you and your pet, including Covered For Life. Visit Petplan to find out more.
If you have any tips or advice for bringing home a new pet, why not share your thoughts in a comment below.
---