New Year's Eve pet safety: how to keep your dog, cat or rabbit calm during the fireworks
---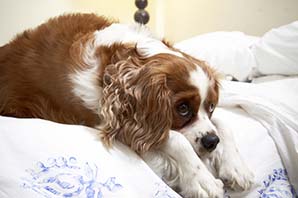 While many of us will be all too aware of the unease that bonfire night and the surrounding period can cause our pets, it can be easy to forget that New Year's Eve can also be a time of stress for our furry friends .
Petplan looks at tips to help keep your pet calm and safe during this New Year's Eve…
Plan ahead and use synthetic pheromones to help keep your pet calm
Synthetic pheromones can be used to help calm your pet. This generally only works in mild cases, where your pet isn't usually that bothered by loud noises, but may experience some distress during fireworks.
For dogs, you can buy a diffuser, a spray, or a collar that release synthetic versions of the pheromones that a mother would produce to comfort her puppies.
For cats, diffusers and sprays are available. Cats often rub their faces against you or your furniture when they are feeling comfortable in their environment. This leaves behind a pheromone which marks out their territory as 'safe' – the sprays and diffusers are a replication of these pheromones.
These devices should be introduced into your home a week or two before New Year's Eve to ensure optimal results.
How to keep your pet calm during New Year's Eve fireworks
On the big night there are several things that you should do to ensure they are as undisturbed as possible:
* Keep your pet inside when the fireworks are going off. Ensure you close all doors and windows and draw the curtains to make your home as soundproof as possible.
* Leaving on the TV or radio can help to cancel out some of the sounds from outside and provide familiar, calming noises for your pet.
* Don't leave your pet alone in the house – no matter how good that party you've been invited to sounds! Like humans, pets often look for comfort in company when they're scared or anxious.
How to keep your dog calm during New Year's Eve fireworks
In the build up to the event you may want to consider Systematic Desensitisation Therapy in order to ensure they are used to certain sounds and have better coping mechanisms.
On the night itself you should:
* Take your dog for a walk well before the fireworks start. This will allow them to wear themselves out before the evening and help keep them calmer and more relaxed.
* Make sure you praise your dog when they are calm to encourage good behaviour. However, while it may seem harsh, do not attempt to comfort them if they are scared. All this does is teach them that the noises and lights are something to be scared of – ignore them unless they are behaving normally.
* Your dog's bed will be their usual safe haven but they may also appreciate other areas to hide in such as an open crate with a favourite toy in or some blankets.
* Games can provide a welcome distraction for your dog if they are anxious.
How to keep your cat calm during New Year's Eve fireworks
* Do not try to pick up your cat. Cats who are scared generally prefer to be left alone and, if you attempt to restrain them, they could scratch or bite you.
* Cats will usually hide when they are scared – so ensure their favourite hiding place is accessible. Don't be tempted to coax them out as it's best to act normal and ignore fearful behaviour.
* Keep a litter tray available for the duration of the fireworks as your cat will not want to go outside to relieve themselves.
How to keep your rabbit calm during New Year's Eve fireworks
*If your rabbit normally lives in an outdoor hutch then, if possible, place it a quieter place such as a garage or even inside your home.
*Another good idea is to turn the hutch so it faces a wall or fence so your rabbit isn't exposed to the bright flashes. You should also attempt to cover their enclosure in thick blankets to dampen the unusual noises.
*Make sure you give your rabbit extra bedding to let them burrow into to feel safer.
*Putting your rabbit in their hutch earlier than normal will let them settle and feel safer before the fireworks begin.
Top tips for keeping your pet calm during the New Year's celebrations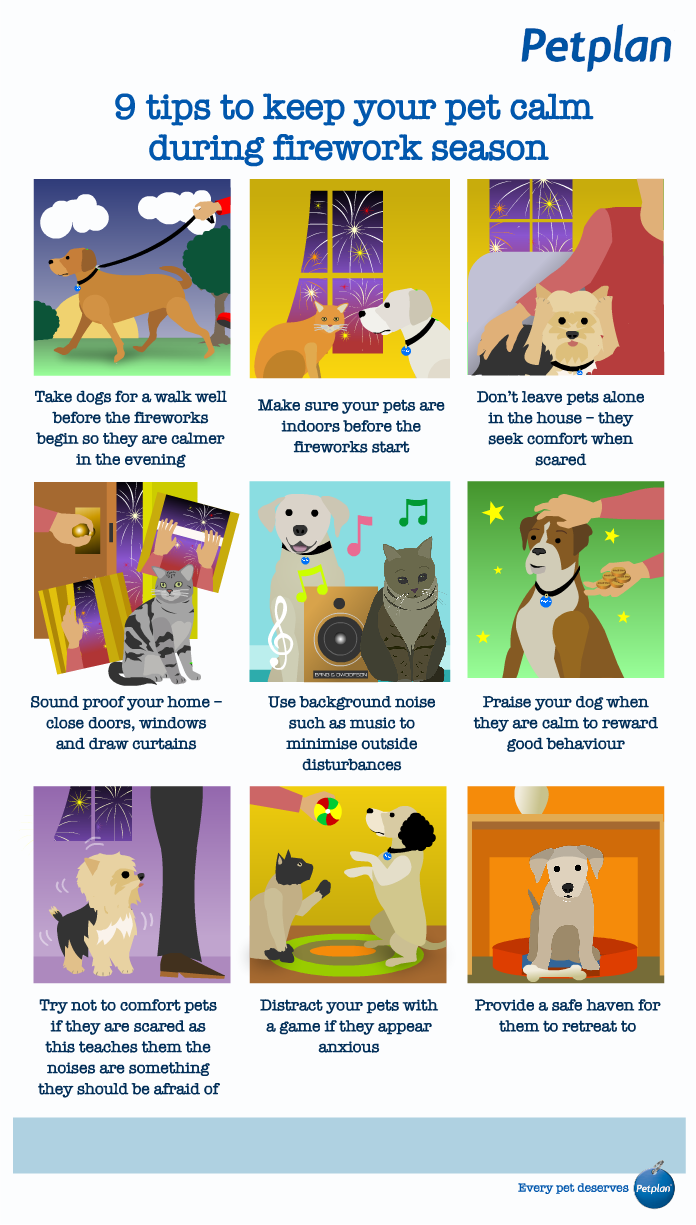 What are your experiences of keeping your pets calm during fireworks? Let us know your story below...
---