Pet Christmas presents: safe and healthy treats for your cats, dogs and rabbits
---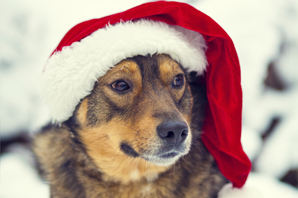 Christmas can be a fantastic time for all the family – and there's no reason our pets should be left out of the festivities.
There are plenty of ways you can make your pet feel extra special.
Petplan has scoured the web and found some of the best Christmas presents that will help your pets have a happy and healthy Christmas…
Turkey and cranberry dog bones
http://www.petplanet.co.uk/product.asp?dept_id=1440&pf_id=58445
Lots of 'human' food is very bad for pets so never be tempted to share your Christmas dinner with them. Chocolate, grapes, raisins and sultanas can be poisonous as can onions and garlic.
However, that doesn't mean your dog can't join in with enjoying new and exciting food. There are plenty of festive themed dog treats in the shops at the moment and these turkey and cranberry bones provide a seasonal spin on a classic treat and can help your dog feel part of the festivities.
Cat scratching DJ deck
http://www.notonthehighstreet.com/suckuk/product/cat-scratch-deck
Keeping your cat's claws in good shape is a year round job – and scratching posts are a great way to ensure they remain in healthy condition.
Cats have a natural urge to scratch and the action helps to keep their claws trim and also remove any debris that may have become trapped.
This cat scratching DJ deck provides an unusual spin on the standard design and is easy to assemble – although the traditional posts work just as well!
Leftover cardboard boxes
Not all presents for your pet have to cost money.
Any parent who has watched in dismay as their child ignores the expensive toy they've been given to play with the box it comes in will be aware of the allure of cardboard – and rabbits are very much of the same mindset!
Leftover cardboard boxes can provide plenty of fun for your pet rabbit. It allows them to indulge their natural urges for digging and chewing, while the more adventurous owners can construct an obstacle course to help keep their rabbit stimulated.
However, it's vital to ensure you only use glue-free, untreated cardboard and to remove any sharp objects such as staples.
Dog agility training kit
http://www.petplanet.co.uk/product.asp?dept_id=1404&pf_id=62651
While ensuring your pet still gets plenty of exercise in the winter months is vital, there may be times when due to the weather, exercising your dog may be limited. Setting up a small agility course in your home has many physical and mental benefits for your dog and this dog agility training kit can be set up anywhere there is ample space. Ensure the area is clear of any dangerous objects that could fall and hurt your dog.
A personalised Christmas cat treat box
http://www.petspyjamas.com/product/petspyjamas-christmas-cat-treat-box/PPJ-00218/?gclid=CLGVkq3i4skCFasBwwodO5oO6g
Just like their canine friends, cats need a very specific diet to ensure they stay fit and healthy.
Several studies have shown that many of the foods we eat at Christmas contain things that can cause issues for cats. Things such as:
Beef
Lamb
Seafood
Dairy products
Wheat gluten
Ensure all of these foodstuffs are kept well away from your cat and provide cat-friendly treats for your pet. Many places provide personalised cat treat boxes that you can tailor to your cat's specific needs and likes.
Quilted dog bed
http://www.johnlewis.com/barbour-tartan-quilted-dog-bed/p2085147?sku=234576764&kpid=234576764&s_kenid=817a39d1-6d16-42cb-9051-e36cffa825c7&s_kwcid=404x1156896&tmad=c&tmcampid=73
While it's important to ensure your dog gets plenty of exercise, it's still great for them to be able to relax in comfort after a long walk in the cold – and a dog bed is perfect for just that.
However, buying a dog bed isn't as straightforward as it may seem. It's important to ensure you pick the right size and style for your dog otherwise they will simply choose to relax in another, less convenient spot such as a sofa or bed.
Larger dogs may benefit from a bed without sides so they can properly stretch out, while dogs with short hair or those prone to getting cold may be better suited to a bed with a covering to keep the chills out.
This one is perfectly suited to mid-sized dogs such as cocker spaniels and comes with a washable cushion pad.
Senses play circuit for cats
http://www.zooplus.co.uk/shop/cats/cat_toys/catit_design_senses/133881?gclid=CKS82bDt5ckCFesBwwodLd8KQw#more
Your cat may be spending more time indoors during the winter months so this play circuit is a great way to ensure their agility and dexterity remain as sharp as possible.
A brightly coloured ball moves along a sturdy plastic tube with peep holes for your cat to see and chase the ball. Additional elements can be purchased to extend the track, meaning your cat will always remain challenged and stimulated.
Savoury linseed biscuits
Give your pooch a tasty and healthy festive treat this Christmas.
These bite-sized biscuits contain no additives or preservatives, and the omega-3 oils in the linseed may be beneficial to your dog's coat. Make the stock from chicken or beef bones, drain through a sieve to avoid shards of bone, then pick off any remaining shreds of meat to add to the biscuit mix. For a healthy, balanced diet, keep treats like these to a maximum of one or two a day.
Ingredients:
This makes around 60 biscuits, approx. 30 calories per biscuit
125ml homemade beef or chicken stock
350g plain flour
3 tbsp linseed, whole or ground
1 tbsp shredded beef or chicken
1 egg
Method:
1.Preheat your oven to 200°C, then gently warm the stock in a pot.
2.Add the remaining ingredients to the stock, and mix to make a firm dough.
3.Knead the dough for a few minutes until it forms a smooth ball, then roll it out evenly on a floured surface until it's around 0.5cm thick.
4.Using a small festive cookie cutter, around 3.5cm in diameter (try an angel or a star shape), cut out your biscuits from the dough.
5.Cook on a lightly floured baking tray in the centre of the oven for 25 minutes. Cool thoroughly before giving them to your pet, and store in an air-tight container.
Dried sweet potato treats
Your dog will love sucking or chewing on these healthy treats that are easy on teeth.
Preheat your oven to its lowest setting, and slice two sweet potatoes lengthwise into chunky slices around 1.5cm thick.
Lightly grease a baking tray with vegetable oil and arrange the sweet potato slices on the tray.
Pop the tray into the oven and leave for around 6-7 hours – check them every few hours, and turn them over halfway through.
Turn the heat off and leave them to cool overnight. If the end result is too chewy for your dog, try again and reduce the cooking time for a softer texture.
Give them to your pet as individual treats, or string them together with unbleached twine.
What does your pet enjoy at Christmas? Let us know the things that keep your pet entertained during the festive period below…
---