Christmas Gift Ideas For Your Pet | Pet Tips The best presents, advice and things to do with your pet at Christmas Advice
---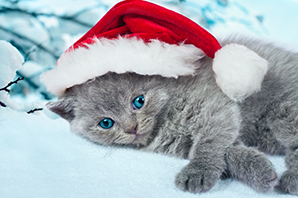 For most people, Christmas is about getting together with friends and family to celebrate and give gifts – and pets are an important part of that experience.
So, to make sure you have a safe, healthy and memorable Christmas with your cat or dog, take a look at these simple tips. And please let us know of any pet-based Christmas traditions you have in your home...
How to make the most of Christmas with your dog
Give your dog.... dog-friendly chocolate
The presents shouldn't just be reserved for people at this time of year – but be sure you give your dog >the right type of Christmas treat.
Normal chocolate can be extremely harmful to dogs as it contains a stimulant called theobromine which dogs are allergic to. Special dog-friendly chocolate can be bought which is safe for your pet and a great treat for them while you tuck into the selection boxes.
Don't let you dog… be surrounded by hazards
Christmas will inevitably see most people's houses fill up with all sorts of things that normally wouldn't be there, and many of them can be dangerous for your dog.
Wrapping paper, bows and scissors should be put away after packing your presents, food – especially items that can be a choking hazard such as bones – should be out of reach, and Christmas visitors need to be made aware of what they can and cannot give to your pet.
And of course, ensure they have quality dog insurance!
Take your dog… for a long winter walk
It's easy to spend the Christmas period sitting in your warm home and eating everything in sight.
However, there's very little that beats putting on your winter clothes and working off the egg nog with a brisk walk on a chilly afternoon. Your dog still needs regular exercise and fresh air regardless of the time of year – so a walk will be great for both of you!
How to make the most of Christmas with your cat
Give your cat… a new activity centre
The short days can mean your cat will be spending more time indoors and less time out exploring and being stimulated.
Ensure your cat keeps their body and mind active by buying them a new activity centre. There are hundreds of models about and one is bound to be perfect for your home and your cat.
Don't let your cat… get hurt by decorations
The lights and glass baubles that adorn your tree may look brilliant but, if you've got a cat, they can also be extremely hazardous.
Ensure all your decorations are safe for your cat and that any potential hazards – such as lights, cables, and other decorations – are out of reach for any inquisitive felines.
Take your cat… to the vet
With the dark hours at their longest over the Christmas period and the temperature at its lowest, you need to ensure your cat is as healthy as they can be.
A trip to the vet to get a check-up will put your mind to rest and ensure your cat can deal with everything during the winter months.
What top tips do you have for enjoying Christmas with your pet? Let us know below…
---