Things to consider when taking your pet on holiday
---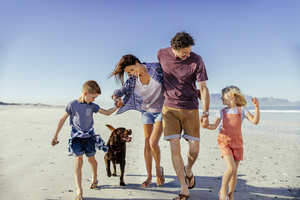 With the six weeks' holidays in full swing, families all across the UK are jetting off to enjoy sun, sea and sands on their summer holidays. However, for pet owners, holidays can be a double edged sword, and the destination is not the only thing they must consider.
Petplan explores some ideas for making your break as stress-free as possible, whether you're taking your pet with you or not…
Planning your pet holidays
Whisking your pet away on holiday can be a lot of fun, and the best part is that you won't even miss them! However, there a few things to consider before you begin your travels:
UK or abroad? – Travelling in the UK is free for pets and is the best alternative to travelling abroad. Flying can be an extremely stressful experience for pets, therefore it is recommended that if you're jetting off to hotter climes, your pet should sit this one out
Health – before any pet holidays, ensure your pet is wormed and that their vaccinations are up-to-date. Be aware of your pet's clinical history and allergies, and remember to pack any prescribed medication! In case of emergencies, locate the nearest veterinary practice and note down their telephone number, along with keeping your own vet's number handy
Pack the essentials – pet collars, identity tags, toys, food, bowls, bedding, doggy bags and a litter tray (to name a few…)
Pet insurance – be sure to take out Petplan pet insurance in case of any unexpected illnesses or injuries that may occur while you're away!
Pet friendly hotels
When planning your pet-friendly holiday, remember to check if your chosen hotel allows pets. There are a range of pet friendly hotels all over the UK, with beautiful views for you and your pet to see.
If you fancy a trip to the south coast, visit Devon or Cornwall where there are pet friendly hotels a plenty. Or maybe the Scottish countryside is more up your street? Enjoy scenic landscapes and northern coastal walks, all in the company of your pet.
Some pet friendly hotels even provide your dog with treats on arrival and throughout your stay! Check if hotels provide bowls, beds or towels as this could make packing even lighter.
Leaving your pet at home
If you'd rather leave your pooch or kitty at home, there are a few things you can consider:
Ask a friend to care for your pet whilst you're away – A friend or neighbour can feed your pet, change the litter tray or walk your dog. As cats are home bodies, this might be the best option for them!
Employ a pet sitter – pet sitters are a great option as they provide constant care for your pet whilst you enjoy your holiday. Be sure to read reviews of pet sitters and check they are from a reputable company
Board your pet in a kennel or cattery – if pet sitters aren't an option, consider boarding kennels and catteries that will look after your pet while you're away. Again, read reviews and ask for advice before making a decision where your pet will stay
If you decide that leaving your pet at home is the right option, always try to familiarise your pet with their new (temporary) environment or the person you plan to leave them with. This will ease the transition and help them to settle in.
However, if you're still unsure what the best option is, consult your vet for professional advice.
Happy holidays!
Does your pet holiday with you? Tell us about your experiences in the comments below…
---