Catch up with Hounds for Heroes puppy, Bunker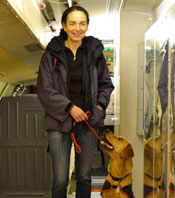 'Puppy parent' Grace Brandon shares the latest achievements of her trainee assistance dog, Bunker. The two have been paired up by Hounds for Heroes, a charity that trains dogs to assist former emergency service and armed forces employees who've been injured in the line of duty. Petplan continues to follow their story.
Bunker is now 13 months old and is growing into a very handsome boy!
In our weekly training class, he is learning new commands such as 'Hold,' and how to close doors with the command 'Tug Tug'. He is always enthusiastic in training, and this enthusiasm means it is taking him a little longer to master the 'Instant Down' command. We will continue practising.
We are starting work on more demanding things now such as 'With Me', which is off-lead passing the other dogs in the class, and recalls without being distracted. Bunker has made significant progress with his recall when off lead.
Our trainer is also doing some wheelchair work, as well as training him to pick up and give items such as walking sticks and crutches.
In January we went on holiday to snowy Dartmoor, which Bunker loved. Our most recent trip was to The Fleet Air Arm Museum in Somerset, so that he could learn a bit more about military history – and have a nose around Concorde!

Read Grace's previous blogs about Bunker in January 2013 and September 2012.