Debate: Would you ever own an exotic pet?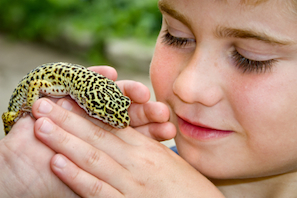 From lizards to llamas, there are thousands of unusual pets sharing the homes of Britain's animal-lovers. But how exotic is too exotic?
If an allergy or lack of outdoor space precludes you from owning a dog, cat or rabbit, or you simply long for something a bit different, then have you considered chatting to a cockatiel or interacting with an iguana? From the more familiar small furry critters such as guinea pigs and hamsters to birds of prey and large mammals, the term 'exotic pets' encompasses a large number of species.
Some of these more exotic creatures have an undeserved bad reputation. Unlike their wild counterparts, domestic rats, known as fancy rats, are clean, cuddly and highly intelligent.
Snakes make fascinating pets and are relatively low maintenance, as long as they are provided with appropriate living quarters (and not allowed to escape!). Goats, sheep and alpacas will earn their keep as companions for other animals, lawnmowers and even security guards.
However, these unconventional pets have specific needs in terms of accommodation and diet. Their temperaments can be unpredictable, and some species may pose a threat to public health and safety if they are released or make a successful bid for freedom. And if, for whatever reason, you are no longer able to care for your pet, it will be more difficult to rehome an exotic pet than a cat or a dog – especially as some species, particularly birds and reptiles, can live for many years.
Before choosing an exotic pet, it's vital to research its physical and psychological needs and ensure that you're able to provide for them. Consider the RSPCA's requirement for the owner of any pet to provide 'somewhere suitable to live; a proper diet, including fresh water; the ability to express normal behaviour; for any need to be housed with, or apart from, other animals; and protection from, and treatment of, illness and injury'.
Also, remember that your exotic pet will require expert veterinary care and specialist insurance. That's where Exotic Direct comes in. With more than 25 years' experience insuring exotic animals, its policies are tailored to suit your pet's needs.
FAMOUS OWNERS
If you've already decided to take the plunge and opt for an exotic pet, then you're in good (or at least famous) company.
• Comedian and TV presenter Alexander Armstrong shares his Oxfordshire garden with a pair of llamas. Far from standing out like a sore thumb, the cuddly camelids fit right in, he says. 'They are beautiful and blend into the rural idyll like donkeys in Donegal or parakeets in Hyde Park.'
• Posh and Becks are among the A-listers who have fallen for micropigs in a big way. Originally reared in the UK in the 1990s, these petite porkers are also the pet of choice for Harry Potter star Rupert Grint and songstress Charlotte Church.
• The hobbit-like musical comedian Bill Bailey has four birds, a snake and a chameleon, as well as a clutch of cats and dogs. Molly, one of his cockatoos, is quite a character, Bill told the Daily Telegraph: 'She has lots of toys, listens to music and loves meeting all the people who come over to the house. Once, she spent all day with a three-number combination padlock and figured out the code.'
• ITV's resident chat-show host Jonathan Ross goes home to a full house at the end of his day – his menagerie includes an iguana, two salamanders and a number of ferrets, and he was reportedly on the hunt for a fruit bat to add the finishing touch.
• Not content with her signature handbag dogs, word has it that American socialite Paris Hilton splashed out some Vegas casino winnings on a tiger cub. Unfortunately, the feline soon outgrew her Fendi and had to be retired to Nevada to live on a ranch owned by her family.
Do you own an exotic pet, or are you considering one? Or do you think owls and hedgehogs should be left in the wild? Please share your thoughts in the comments box below.