Happy new year from Petplan!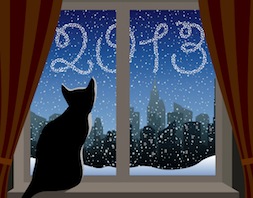 Everybody at Petplan would like to wish you and your pet a very happy 2013. Rest assured that we'll be here throughout the year to offer help and support when you need it.
And remember, we're not just here to help cover the cost of vets' fees when your companion is unwell. We can also offer support at other stressful times – including if your pet goes missing.
There are many things you can do to help find your missing friend, such as searching the area, advertising and contacting local vets. Petplan can give support and advice through our helpline and we'll also help with your costs. We'll even fund a reward for the person who found your pet – all you have to do is agree the cost with us before you advertise it.
To receive help towards the cost of your search, you must tell at least one veterinary practice in the area where your pet was last seen, within five days of discovering that they have gone missing, in case your pet is returned. For more information, call an adviser on 0845 0714 3030.
TOP TIPS FOR FINDING A LOST PET
• Scour the area where your pet was last seen
• Inform neighbours and ask them to check outbuildings
• If your pet is microchipped, make sure the microchip company has your details
• Contact all vet practices and rescue centres in the area
• Distribute flyers featuring your pet
A lost pet can cause lots of stress and worry. But if you should ever find yourself in this heartbreaking situation, remember that Petplan can help.