Hounds for Heroes: Bunker update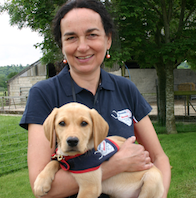 With the help of 'puppy parents', the Hounds for Heroes charity trains dogs to assist former armed forces members and emergency service workers injured in the line of duty. Here, Grace Brandon tells us how her cadet pup, Bunker, has been getting on since we last heard from the pair in September.
'Bunker is now nine months old and has grown into a slim, handsome dog.
Each week, we travel to the Hounds for Heroes Centre at Petersfield in Hampshire to attend training classes. There, we meet up with the other cadets in his squadron.
Fetching and carrying things for his human partner will be an important part of his job, so we play retrieving games with the sort of objects he might be expected to carry, for example a walking stick, crutches, a TV remote control, a wallet and keys. He has been taught not to nibble or bite down on the items, as no one likes a tooth mark in their mobile-phone screen, and this is one of the reasons why we don't use squeaky toys in training.
We are also continuing to work on re-enforcing commands such as 'sit' and 'lie down', but now from a distance and with Bunker staying in position for a longer time.
At home, one of Bunker's daily tasks is to collect the post when the postman puts it through the letter box, and in return I give him a reward or cuddle. After each of his meals, he picks up his food bowl and carries it to the kitchen sink to give to me – this is another useful task, as his partner may not be physically able to pick it up after feeding.
Bunker is also going through a typically adolescent puppy phase! He wants to explore the world and delights at playing with other dogs. Having an opportunity to play with other dogs, rather than just his class mates, helps him to hone his social skills.
I feel confident enough for him to be off-lead when we go on his familiar, safe walks in parks and so on. He bounds about with great enthusiasm and loves every minute of it. He can always be relied on to come back when whistled or called, though.
Getting out and about and socialising Bunker is still an important part of his training. We go in and out of lots of different shops so that he can get used to different types of flooring; discover new smells, experiences and environments; and get used to going past food, children and other distractions.
He enjoys it when we humans go to a café or pub for a drink and something to eat. He has now learned to settle down quietly in a public place, comfortably on his mat, and this will be very important lesson to use in his future role.
It's hard work being a puppy parent, but I love it!'
Read Grace's first blog article here