How to make a tasty Christmas dinner for your dog
---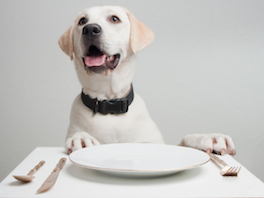 We've invited writer Elaine Everest, author of hit book Canine Cuisine (£8.99, How To Books) to give us this extra-special recipe for a festive meal for your dog. Hope your dog likes it!
Ingredients
One mug of brown rice

One beef stock cube

Half a small butternut squash

Four large carrots

One head of broccoli

A small bunch of fresh parsley

One tray of minced turkey

A small carton of chicken liver

Two cloves of garlic

One mug of wholemeal flour

One mug of oatmeal

Four eggs

Half a mug of vegetable oil
Method
Heat your oven to 190°C or gas mark 5.
Put the brown rice into a pan with the stock cube and cover with boiling water. Bring to the boil and simmer until the rice is cooked but not too soft.
Meanwhile wash the vegetables. Peel the butternut squash and chop all vegetables into even-sized pieces and place into a food processor. Blitz until the vegetables resemble fine breadcrumbs before adding the parsley for a final five-second blitz.
Place the finely chopped vegetables into a large mixing bowl along with the wholemeal flour and oatmeal. Mix together.
Next, place the minced beef and the ox liver into the food processor and blitz along with the garlic cloves until you have a smooth paste. Add the four eggs and mix well together for several seconds.
Add this mix to the bowl and stir together well. At this point, stir in the cooked rice and add the vegetable oil until you have a mixture that is not too runny. It is not essential to use all the oil. If the mix becomes too liquid, add a little more oatmeal to stiffen.
Pour into a greased baking tin or two round cake tins and place into the centre of the oven. The new-style silicon bakeware is ideal for this recipe as the cake will slide away from the container with ease. Bake for 45 minutes or until a skewer comes out clean when slid into the centre of the cake. Turn out onto a cooling rack and leave to cool.
After feeding your dog a portion of his own cake, allow his meal to go down for an hour or so before enjoying a brisk Christmas Day walk with the whole family.
Happy Christmas!
If you have a recipe you would like to share, just comment below.
---