How to make your dog a star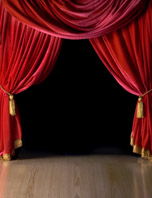 Once an unwanted pet, Adora the Akita is now a star of stage and potentially screen, whose acting skills won her the Petplan-sponsored 'Dog Star in the Making' award in this year's Dogs Trust Honours.
The 10-year-old Akita has just made a successful stage debut as stray dog Sandy in a version of the musical Annie in North London. Adora's owner Robert Stuhldreer spotted an advert in a newspaper and took her to the auditions where, despite her lack of acting experience, she was snapped up.
'She showed no signs of diva-like behaviour,' he says, 'but did revel in taking her final bow and being the centre of attention!'
Adora is now signed up with a talent agency, and while awaiting her big break, she visits schools with the Blue Cross youth education scheme to teach children how to behave safely around dogs, as well as raising funds for Akita Rescue.