How to prepare your pet for Guy Fawkes Night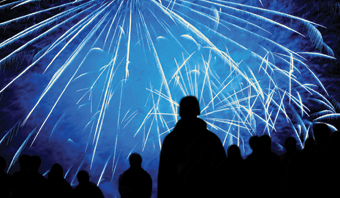 While the rest of the family is looking forward to fireworks night, your pet is probably dreading it. Here's our guide to keeping your pet calm and relaxed on the big night. From the PetPeople magazine features archive
Around this time of year, anxiety descends on my home and lingers there for several weeks. There are jitters, sudden starts and attempts to hide under the bed - and that's just me! The cause of this seasonal nervousness is, of course, the annual festival of noise: Guy Fawkes Night.
I've always had pets, so I never really look forward to what should be a fun winter celebration. There was a time when fireworks were a one-night-only event, but nowadays Bonfire Night has become Bonfire Fortnight. Many people have their own parties at home and fireworks are getting louder. People are unlikely to lose their taste for noisy pyrotechnics - so what can we do to calm our pets and steady our own nerves?
STEP ONE: act normally
It's the most natural thing in the world to want to comfort your pet when they show signs of distress, but fussing over them just makes them think there really is something to worry about.
My first dog turned into an absolute wreck at the slightest whizz or bang. She would tremble and pant in terror. It was very distressing, and I spent many childhood Bonfire Nights curled up next to her wherever she'd found to hide, trying to reassure her. This was kind of me - but absolutely the wrong thing to do. Pets are highly tuned to our moods, so if we're worried, they will be too. If your pet wants to hide, let them - but don't fuss.
STEP TWO: keep them indoors
Over the years I've noticed that 'Missing' posters seem more common in the aftermath of Bonfire Night than at other times of year, especially for cats. A cat may be scared away from their normal route by a firework and end up in unfamiliar territory, or be too frightened to make their way home.
Remember to close windows and cat flaps. If your cat is used to going out, provide a litter tray. Small pets that normally live outside, such as rabbits and guinea pigs, should also be brought in if there are likely to be fireworks nearby. Make sure cats and dogs have ID tags or microchips in case they do get lost.
Then all you need to do is close the curtains, turn on the TV and try to relax. It's easier said than done; even though I now know what you're supposed to do, I still catch myself wittering on to my own pets about how 'everything's going to be alright, don't worry, it's only a firework.'
STEP THREE: for particularly nervous pets...
For some pets, distress caused by firework noise can be particularly severe and you may need to take further steps. You could ask your vet for some Dog Appeasing Pheromone, a synthetic version of a chemical produced by female dogs that has a calming effect on puppies. This comes in a plug-in diffuser and helps dogs of all ages to relax.
A longer-term solution is sound therapy: dogs can be desensitised to noise with the help of a specially developed CD. It should be played very quietly at first and gradually turned up over several weeks. There are a number on the market, such as the Sounds Scary! therapy pack, which is endorsed by the RSPCA. The only thing is you need to start using a product like this well before fireworks season (about six to 12 weeks), so this will only be of use for next year.
We can all make this time of year easier on our pets by making responsible choices about fireworks. If possible, go to a public display to reduce the overall number of fireworks. If you're having a party at home, tell your neighbours so they can protect their pets, and avoid particularly noisy bangers - opt for something pretty and colourful instead.
Remember, remember these tips for the fifth of November
Walk your dog during the daytime when fireworks are less likely to be let off.
Don't take your pet to a firework display - this is one event that is not for all the family.
Make sure you buy and use fireworks responsibly and keep them away from children and animals.
Spare a thought for wildlife as well as pets - check bonfires for hedgehogs and don't leave firework litter about.
Stay home with your pet - your presence will help to reassure them.
By Justine Hankins