How to stop your dog barking at strangers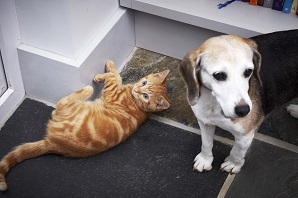 Q: Oscar, our German Shepherd, met lots of people as a puppy, but has started to bark at people wearing coats and hats. Why?

A: This is not an uncommon behaviour, particularly with German Shepherds. It sounds as though you obtained Oscar as a puppy in the spring. Although you spent time socialising him when he was young, he probably didn't meet many people who were wearing winter coats and hats, as the weather would have been warm. Dark and dismal evenings will be a new experience for Oscar and this, combined with the unfamiliar-looking people he now sees on walks, is making him a little anxious. Get friends and family to play with Oscar at home whilst they're wearing a variety of hats and coats, then reward good behaviour.
Inga MacKellar, animal behaviourist