Is your pet a porker? Here's what to do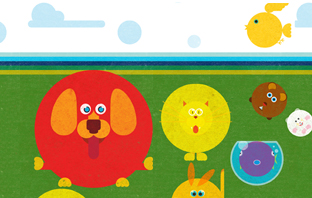 We all love to spoil our pets, but a treat too many can cause the pounds to creep on - and even put their health at risk. Here's vet Alison Logan's advice on what to do.
It's often said that owners look like their pets - and this can extend to the waistline, too. Since qualifying as a vet 19 years ago, I've seen an increasing number of overweight pets coming through my consulting room. Indeed, the 2007 Petplan census found that 30 per cent of dogs, cats and rabbits are obese, and it's fast becoming a problem with small furries and pet birds, too.
We are told that 'we are what we eat', but we're also the result of what we do - and don't do. Our body is like a seesaw: energy input from the food we eat should be balanced by energy output. If we eat more than our body needs, then the excess energy is stored as fat and bodyweight increases.
Like humans, there are many health risks for overweight pets, including heart problems; diabetes mellitus; urinary tract infections; infertility; depressed mood; and extra wear and tear on the joints, leading to stiffness, arthritis and a reduced ability to exercise (resulting in further weight gain).
I like to weigh my patients at the start of a consultation so that any change is immediately evident from the record of previous visits. The annual check-over can reveal a gradual creeping upwards of bodyweight from year to year, which you may not notice.
I remember quizzing one owner at length about the food her 53kg Golden Retriever ate and being assured that Boris had only two meals a day and no titbits of any sort. I stressed the benefits of restoring him to a healthy bodyweight and, two weeks later, found that he had lost 1kg. It turned out the owner's husband had lost 1kg too - he felt guilty having a biscuit with his cuppa without giving Boris one, so they were both going without!
Our pets become family members and we can be inclined to treat them as humans, forgetting that their bodies are much smaller than ours. While a biscuit or two was a higher percentage of Boris' energy needs than his owner's, the difference would be even more marked for a smaller breed such as a West Highland terrier.
Many owners rise to the challenge of slimming their pets by going on a diet themselves. Weighing your pet every two weeks is ideal and I encourage my dog-owning clients to make use of the scales whenever they pass my practice. This also helps dogs become much happier about coming to the vet; they learn that it is not always unpleasant.
It's best, though, to avoid your pet becoming overweight in the first place. You are in control! Establish a healthy lifestyle from day one of ownership because it is far harder to break bad habits - and there may well be knock-on benefits for the whole family.
Top tips for keeping them trim
Stop all snacks and titbits: bread crusts, leftovers from meals, bits of ham while making sandwiches, crisps and sweets etc.
Measure out the recommended daily food ration and use that as a titbit source, making sure you reserve enough for mealtimes.
Don't start the titbit habit in the first place!
Avoid opportunities for scavenging - food left out on worktops etc.
Does your cat eat at other houses in your area? Talk to neighbours and gently let them know you'd rather they didn't feed your cat.
Weight gain can follow neutering because the body slows down, so reduce the amount of food you feed and bulk out with boiled cabbage or wean to a formulation designed for obesity-prone or neutered dogs.
Neutering as soon as it is healthy to do so can help avoid weight gain as you are matching food intake to growth - my Labrador Retriever was neutered at five-and-a-half months and has always been trim.

Take your dog out for walks on a daily basis - good for both of you. Swimming is great for dogs too because there is no stress on the joints and the muscles and cardiovascular system are working hard.
Play with your pet to increase general activity levels - use quality time, rather than edible treats, as a reward; this is especially important for cats and rabbits.
Has this been helpful? What do you think? Do you have a story to share about your pet? Get in touch by emailing petplanblog@petplan.co.uk or simply comment below