Jay the dog and Petplan - a long-term relationship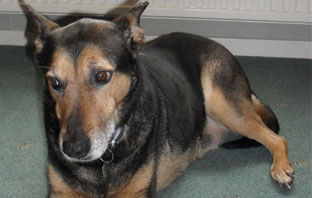 Dog Jay's long-term health conditions meant he was always at the vets. Fortunately owner Catherine Humphreys' Petplan policy made things that bit easier
Petplan has helped out my 11-year-old rescue dog Jay on numerous occasions during his life.
His problems started when he was only one; his mouth was itchy all the time and, although he never broke the skin, he would scratch it all the time.
We tried medication, acupuncture and even a Chinese herbal medicine. We eventually took him to a dermatologist, who gave him an allergy test, which revealed that he was is allergic to all kinds of pollens, grasses, and even cats!
The dermatologist developed him two vaccines (he had too many allergies for just one vaccine), which we had to inject into him every week. Over time, his symptoms eased and they are now controlled with just antihistamines. It took a number of years, but Petplan was there every step of the way for him and for us. Thank you, Petplan.
Catherine Humphreys, by email
If you'd like to tell us your Petplan Customer Story, just email us at: petplanblog@petplan.co.uk