Things To Know About Microchipping Your Dog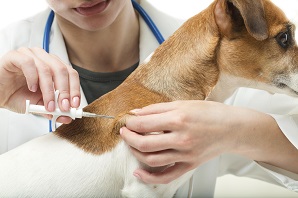 Microchipping your dog is now a legal requirement across England, Wales and Scotland as of 6th April 2016.
As an important part of responsible pet ownership (alongside pet insurance) it vastly improves the chance of you and your lost pet being reunited.
However, many dog owners still have questions and reservations about the benefits of microchipping and why the government has made it a legal requirement.
Petplan takes a look at some of the key questions around the issue and why you should ensure your dog is microchipped…
Why is the government making microchipping a legal requirement?
Who better to answer this question than the government itself? According to the Regulatory Policy Committee's Impact Assessment:
"The policy objective is to improve animal welfare by increasing traceability of dogs through microchipping and to encourage responsible dog ownership.
"More lost dogs will be re-united with their owners more quickly to the benefit of owners and dogs and saving Local Authorities and charities considerable kennelling costs. It will also be easier for those responsible for tackling abuses of dog welfare to bring owners to account and to protect public safety.
"Traceability back to breeders will in the longer term lead to dog health improvements as poor breeding conditions and practices lead to health problems and generic/congenital problems."
What is a microchip and will it hurt my dog?
A microchip is a small electronic chip around the size of a grain of rice. The owner's details are logged onto a central database meaning that, if the dog ever becomes lost, the microchip can be scanned and the owner identified and contacted quickly.
Because the microchip is so small there isn't even any need for anaesthetic. Using a specially designed implanting device, it's inserted between your dog's shoulder blades and is the equivalent of getting your ear pierced.
Do all dogs need to be microchipped?
Yes – all dogs in England, Wales and Scotland need to be microchipped, Northern Ireland introduced the law in 2012.
All puppies must be microchipped by the time they are eight weeks old and it is illegal for breeders to sell puppies that are not microchipped and registered on an authorised database.
What do I do if my contact details change?
A breeder must always be the first recorded keeper of a puppy on the database and must provide transfer of keepership documents to the new owners.
If you are simply moving house you will have to let your microchip provider know and pay a small fee to update your address details. Not only is it is vital that this is done to ensure you are reunited with your dog as soon as possible if they get lost, it's also a requirement of the law.
The UK Microchip Databases are:
What happens I don't get my dog microchipped?
If a dog without a microchip comes to the attention of the authorities, their owner may be served with a notice requiring the dog to be microchipped. The owner may face criminal prosecution and a £500 fine if they don't comply.
If the owner continues to take no action, an enforcer can seize the dog and microchip them at the owner's expense.
Are there any exemptions to getting your dog microchipped?
Only medical grounds can exempt your dog from getting microchipped. If you are concerned about any adverse reaction then consult with your vet before moving forward. If your vet believes it would be to the detriment of your pet's health, then they can give you a letter to exempt your pet from being microchipped.
For further microchipping FAQs visit our website.
Are you still concerned about getting your dog microchipped? What are your reservations? Let Petplan know in the comments below…