Moving house - helping your pet to cope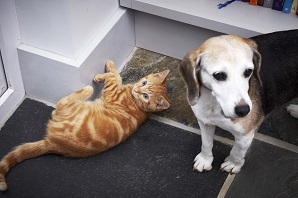 Q: I've had my two nine-year-old feral cats since they were kittens. I've downsized from a house with eight acres of land, where the cats hunted mice. Since I moved, the male cat has turned on me. How can I master him?
A: Your cats have moved from a property where it sounds as if they lived a semi-feral existence to a much more restricted environment. They were used to hunting and I suspect the male cat is displaying predatory aggression towards you. Ensure he has lots of toys available upon which he can focus this behaviour. Have wine corks strategically located and in your pockets so that, should you think he is about to run at you, you can quickly roll a cork on the ground for him to chase instead of leaping at you. Don't underestimate the injuries a cat can inflict and seek professional help if this behaviour continues.
Inga MacKellar, animal behaviourist