Pet owners: some quick ways to save money in 2012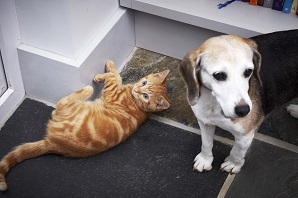 Your beloved pet probably isn't that interested in the Eurozone crisis or a possible double-dip recession, but we're all into saving money these days. Here are some ideas on how to save cash when it comes to our pets…
Diet
The last thing you want to do is make sudden changes to your pet's diet, but it's still possible to save money. For example, buying in bulk can often be more cost effective. Apply the same idea to cuts of meat, fish, or any fresh produce. And why not try the odd some homemade recipe from scratch? As ever, consult your vet if you need any dietary advice.
Don't buy - 'borrow'
Naturally, dogs get very 'attached' to their collars and leads, but puppies soon grow out of theirs, so save money by borrowing one from a dog-loving friend - just until they're ready for a grown-up one to call their own!
DIY toys'
Homemade toys are also a brilliant way of saving money. Anything that dangles will entrance dogs and cats alike, and cat nip is available online and at many high street speciality pet stores. As ever, be sensible and never use anything that may come apart easily and be small enough for your pet to swallow. Your local animal shelter might also like a few of your home-made creations to thrill their guests.
Pet-friendly holidays
Finally, is the cost of putting your cat or dog in kennels or a cattery every time you go on holiday on a par with the cost of the holiday itself? There are plenty of brilliant web sites out there devoted to pet-friendly holidays and the AA has published a guide> devoted to the subject.
If you have any money-saving ideas, please share them below. We'd love to hear from you.