Petplan £500 prize draw winner: Waggy Tails dog rescue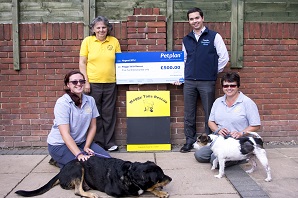 The winner of our monthly prize draw for August is dog rehoming charity, Waggy Tails.
Based near Poole and Bournemouth, Waggy Tails puts their animals first and has a strict adoption criteria that includes dogs not being left alone for more than four hours a day, and the need for any new owners to have a secure back garden.
It's this attention to detail that has made them such worthy recipients of a £500 cheque from Petplan. We spoke to Office Manager and fundraiser Susan Webster to find out more…
Hi Susan, how does it feel to win the £500 August charity cheque?
"We're all delighted to win. Fundraising is a hugely important part of what we do so to be given this money has given us a real boost."
What has the money been spent on?
"We used the money to buy some new microchip scanners. Our old ones were very hit and miss so getting new ones was vital. Identifying lost and abandoned dogs is a huge part of what we do so having the ability to read their microchips quickly and accurately is really important – we wouldn't have been able to invest in them at this stage without the money from Petplan."
How long have you been involved with the charity?
"I've been here for 14 years and have had a variety of jobs along the way. Part of my job now is to man the 24 hour emergency line. While that does sound like a lot to take on, it's only used in real emergencies such as when the police find an abandoned dog and need it taken care of right away."
What are the biggest challenges the charity faces?
"Fundraising is always something that is the forefront of our minds, but finding foster homes for older dogs is also something that takes a lot of time and effort. We don't want to give older dogs to families if we're unsure how long they have left – it might only be a matter of weeks for some of them – so finding foster homes who will care for them in their last days is very important to us."
Do you have any pets yourself?
"Just a couple! I've got two dogs, one cat, two budgies, one guinea pig, one hamster a permanent foster dog that I'm looking after. I've always loved animals and like to help in any way we can."
What can people do if they want to help Waggy Tails?
We're a pretty big operation with around 70 volunteers, including dog walkers and fundraisers so, if people want to help there are plenty of areas they can do so – just visit the Waggy Tails Volunteer page and request a volunteer pack for more information.
Have you had any great experiences with a dog rehoming charity? Let us know who you think deserves a big 'thank you' below…