Our 5 favourite online pet videos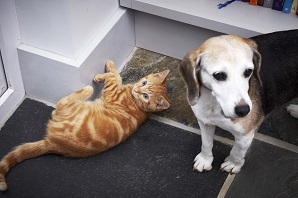 Animals and animal capers have been a staple of video-sharing website YouTube since its first content was uploaded in 2005.
This first video was 18 seconds long and featured an elephant in a zoo. Rather more exciting videos have followed – from skateboarding dogs to football-loving cats – and the antics of our furry friends continue to make up a large percentage of the 4 billion hours of video watched each month on YouTube.
Here, we share our top 5 online pet videos.
1. DALMATIAN RIDES A BIKE
Talk about show-off! All this proud Dalmatian needs is a top hat to complete his carefree dog-about-town look.
http://www.youtube.com/watch?v=roJzWYiXFtg
2. CAT HOLDS OFF TWO ALLIGATORS
The family who shot this video can hardly believe that their cat is a master to not one, but two of nature's fiercest predators.
http://youtu.be/5sAF8gMN9c0
3. WHIRLING HAMSTERS
The hurtling speeds at which these rodent riders are travelling doesn't seem to worry them one bit. In fact, one of the hamsters goes straight back to eating after the trip. Why, it's all in a day's work!
http://youtu.be/sSluD_ZLWs0
4. THE ULTIMATE DOG TEASE
This is a scripted video and the dog isn't actually talking, of course. But it's perfectly choreographed and was a number-one YouTube smash, receiving more than 70 million views.
http://youtu.be/Bb_CBcYfatY
5. MAKING A SPLASH
Click here to view a great video we found not on YouTube, but on Facebook. It has such a great back story that we couldn't resist sharing it with you. Apparently the dog owners who installed this camera did so to catch images of local children whom they believed to be using their pool without permission. So who was the real culprit? Yes, you guessed it…
Which video is your favourite? Let us know by commenting in the box below this page.