Pets in the news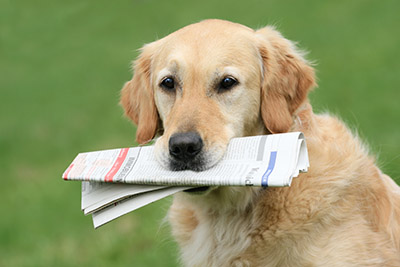 2018, like every year, has had plenty of its own ups and downs and it's been no different for the animals around us. Every year we see pets making the headlines for one reason or another, and we lap it up like they would with their food.
Everyone loves a good pet story in the news, seeing what our companions have achieved or helped us realise is always refreshing. Petplan has compiled a list of some of our favourite stories from this past year showcasing the very best of what our animals have accomplished.
Missy the Mammogram Cat
It's long been the subject of debate as to whether or not some animals are capable of 'sensing' the presence of cancerous cells or tumours in the human body, but one story this year may add a little bit more to the conversation.
Angela Tinning told the Metro that in 2016 her cat, Missy, had begun lying on her chest for hours at a time. When Angela began to feel pain in her chest, she knew something was wrong and doctors quickly confirmed that she had pre-cancerous cells and an operation would be necessary.
While the operation was a success, two years later in 2018 Missy began laying on Angela's chest once more. Again, Angela visited the doctors and discovered that this time her condition was much more serious. Angela was diagnosed with breast cancer and required a full mastectomy.
As the cancer was detected early, she has since made a full recovery, though it's believed that she would have not shown symptoms for at least another two to three months. Was this a stroke of luck? Coincidence? Or can cats really sense cancer?
Regardless of your own conclusions, Angela has nominated Missy for the Hero Cat Award at the National Cat Awards and has also been raising for Breast Cancer Care. All thanks to Missy the cat.
Izzy and the California Wildfire
California wildfires always bring with them a particular kind of destruction which tears through the countryside bringing tragedy to man and animal alike. This year however, provided us with a brief light in the dark when a 9-year-old Bernese Mountain Dog named Izzy was found alive and well.
Izzy's owners were forced to flee from the horrific blaze and Izzy, terrified by the inferno, ran off into the woods, staying to search for her would no doubt have ended badly. Her owners made the unfortunate decision to leave her behind and look for her whenever they were able to return.
Luckily the blaze subsided the following day and the family were able to return. When they did however, they found much to their surprise that Izzy was there waiting for them. In a video posted to Facebook (which gathered 3.5 million views in a week) we can see Izzy, looking as though she's had a hard time but healthy nonetheless, come towards the family for a teary reunion.
Amidst all the destruction caused by events like this, this hero dog not only saved herself but also preserved one of the most important treasures the family had, herself. Izzy was reportedly shaken by what had occurred but has since been feeling much better after being reunited with her family.
Lulu and the CIA
As we all know, dogs aren't just our companions. Some of them serve very important duties in our society, particularly with regards to law enforcement. One such dog, Lulu, was training to be an explosive detection specialist but didn't quite have what it took.
Just as with people, some animals aren't cut out for certain jobs and in this case Lulu was just a little bit too nice.
On October 19th the CIA announced that Lulu just simply wasn't interested in sniffing out potentially explosive odours, though we can't say we blame her. Of course, dedication to the job is something that the CIA really require and so it seemed that Lulu was not cut out for the life.
The story doesn't end here however, as Lulu has since been adopted by her CIA handler and is enjoying a cushy retirement at just 1 years old. If you ask us, it certainly seems that Lulu got the better deal in this case.
The CIA also announced that Lulu's replacement, Harry, has shown an incredible drive to learn despite being the youngest of his class. Isn't it great when things work out for the best?
Gary and Carrie Fisher
The emotional intelligence of dogs can never be understated. Just when we think we've learned all there is to know they surprise us yet again, except this surprise was something of an emotional gut punch for cinema and dog lovers the world over.
After Carrie Fisher's unexpected passing in 2016 she left behind her best friend and confidant, Gary Fisher, the French Bulldog and therapy dog who is now in the care of Carrie's daughter Billie Lourd.
As several scenes had already been shot, Carrie posthumously reprised her role as General Leia Organa in Star Wars: The Last Jedi and as a result Gary was invited along to the premier, sitting on the lap of an assistant.
The result of this was that every time Carrie was on screen Gary's ears picked up, and he seemed to genuinely miss his late owner, showing that for all of Carrie's renown as Princess Leia, she was still Gary's owner and friend.
Big fans of Star Wars might be interested to know that there is an alien in the film based on Gary's likeness which fans have affectionately referred to as 'Space Gary'. It's good to know that even a long time ago in a galaxy far, far away, our appreciation of our pets is just as strong.
Are there any particular animal news stories from this year that caught your attention? Let us know in the comments below...