Pudsey: another in a long line of pet stars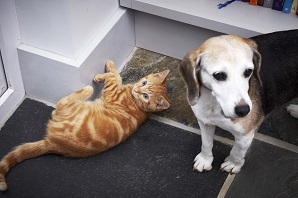 You can't throw a stick without it being chased by a talented animal these days. Pudsey from Britain's Got Talent is yet more proof.
In the last year we've seen pets pick up various accolades for their work in entertainment – even the hardest of hearts have melted at the sight of Uggie faithfully supporting his struggling owner in The Artist and Cosmo losing his best friend in Beginners.
Palm Dog winner Uggie is a veteran of the film world (he's appeared in many films including Water for Elephants and Mr Fix It) but was rejected by his first owner for being too wild. His fearless nature is what makes him good on set, his owner, Omar von Muller, believes. How does he get Uggie to perform so well? It's simply a matter of trust. 'He's like family, and it's all about having fun,' von Muller explains.
It's not just dogs taking starring roles, of course. 11-year-old thoroughbred gelding, Finder, caused many a tear to fall for his emotive performance in War Horse. Finder is an old hoof at acting. His credits include starring roles in Seabiscuit, The Legend of Zorro and Unstoppable. And again, it is the relationship between animal and owner that produces the result. 'Horse whisperer' Bobby Lovgren enjoyed working with Finder so much while filming Seabiscuit, he bought him from the film's producers. Lovgren describes their relationship as being 'like dancers' and it's almost impossible to detect his directions, which the horse interprets faultlessly. Finder, too, can be a bit wild.
And now there's Pudsey, winner of Britain's Got Talent. He and his owner, Ashleigh Butler, will soon perform for the Queen at the Royal Variety Performance. Ashleigh was given Pudsey for her 11th birthday, six years ago and their shared love of performing is palpable. Pudsey began with agility training at 12 months old and progressed to 'canine freestyle', in which he clearly excels. Since Saturday evening, Pudsey has gained an agent, a book deal - and a very bright future.