Recognising the work of exceptional vets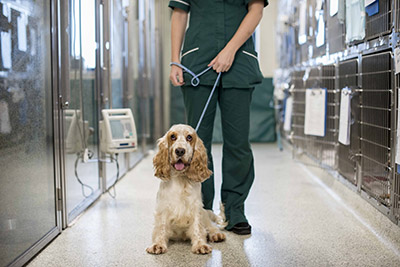 Our pets are many things to us, our best friends, our companions, and members of our family. But what happens when they need some help themselves? Pets often need to see a vet at least once in their lifetime, whether it's for routine mandatory check-up, short-term illness or an unfortunate accident. Here at Petplan we want to take a moment to recognise and celebrate the exceptional work of vets, and show our gratitude to those that work tirelessly to maintain our pet's health.
Constantly changing
Just like human medicine, veterinary medical procedures and treatments are constantly evolving. You never know when there might be a breakthrough just around the corner that can lead to all kinds of medical advances. Luckily for us, dedicated vets are constantly developing how they can improve their level of care given to our pets to ensure the best possible chance of a healthy and happy life.Just a few decades ago, some of the treatment available for our pets today would be inconceivable to pet owners such as MRI scans and keyhole surgery.
Practices
Day in day out, vets are working to improve the lives of our nation's pets. The typical vet day begins by examining any patients that have been admitted and treated overnight. Consultations usually follow, during which the vets deal with a wide range of symptoms across an array of species.
Most vet practices will also have a list of patients that need medical investigations or surgical operations. Veterinary operations include neutering procedures, dentistry, orthopaedic procedures as well as dealing with serious, life threatening conditions, such as cancer and trauma.
Every pet needs to go to the vet if you want to keep them healthy and happy. There are roughly 70 million pets in the UK and almost 6000 veterinary practices so you can imagine that our vets are pretty busy!
Services Offered
Not only do vets offer care for our pets in their clinic, many vets will make a house visit if you are unable to attend the surgery. For many animals, a trip to the vet can be a stressful experience, as many pet owners are aware. Having these vets make house calls to help our companions can make a huge difference in their stress levels and recovery.
However, if your pet does need immediate emergency care then there are always vets on hand at animal hospitals to ensure your pet gets the help it needs. One Petplan customer, Shaun, noticed that his Irish Terrier, Murphy, had been displaying symptoms of a cough for a few weeks which turned out to be an usual lung disorder. Petplan pet insurance covered the cost of the investigations and surgery which allowed Shaun to know Murphy was getting the best care. The vet continues to monitor Murphy's health and while he may recover entirely, thanks to Petplan, Shaun knows he is in a position where the cost of his veterinary bills is not a barrier to receiving the best care.
Here at Petplan we make sure to take note of your personal experiences with the vet and how they helped to care for your pet or even save their lives. Under our #PethoodStories you'll be sure to find all manner of wonderful tales that demonstrate just how important vets are to us.
If you want to personally recognise an exceptional vet, then nominations for the 2019 Petplan Veterinary Awards are now open!
Has your practice put the bounce back in your dog's step? Does your practice or member of staff treat your cat as if it were their own?
If you know a vet, vet nurse, practice team, or practice support who deserves a thank you, then make sure you nominate them in the 2019 Petplan Veterinary Awards.
Nominations close on the 25th January 2019.