Rescue dogs: what every owner needs to know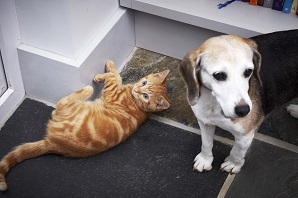 Q: Our 18-month-old Staffie-Jack Russell cross is a rescue dog, who was abandoned. He's friendly but quivers when we're even slightly stern with him. Sometimes he growls at nothing in particular, so we gently tell him off but he continues quivering, as he knows he'll be told off again! He also lunges at cars.
A: It certainly sounds as if your dog did not have a very good start in life. The first thing I'd recommend is not to tell him off. We humans often think that a dog knows he has 'done wrong', but this is not the case. He may associate loud voices, pointed fingers or raised arms with something very unpleasant and he is probably quivering in fear. When he resorts to a small growl, I suspect he's trying to tell you he's very uncomfortable with the situation.
Therefore, if you tell him off, this probably makes him even more frightened, so he growls again - and then you have a vicious circle. Dogs lunging at moving cars can be very dangerous and can occur because the dog is frightened of the car or wants to chase it for fun.
I suggest that you contact the Association of Pet Behaviour Counsellors or call 01386 751151 to find a qualified behaviourist to come and fully assess Buster and help you with his behaviour.
Inga MacKellar, animal behaviourist