Scary season: what spooks your pet?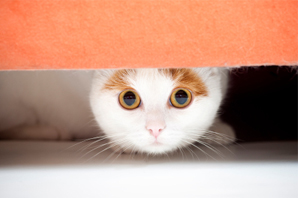 Whether it's things that go bump in the night or things that go bang in the sky, autumn can be a stressful time for pets and their owners. Julian Hall identifies some common causes of fright for our furry friends at this time of year, and how to avoid them.
The autumnal season is that little bit more hectic now with the growing popularity of Halloween and the various activities, from 'Trick or Treating' to the early onset of fireworks, which make up what is now effectively 'Bonfire Fortnight'.
Over half the UK's pets will show some signs of stress in this period, ranging from hiding, to a loss of appetite and even an inability to control bodily functions. However, there are a number of simple measures that you can take to avoid Halloween and Bonfire Night being a horror story for your pet.
First and foremost, in the face of ghouls and goblins, Catherine wheels and Roman Candles, try to stay inside with your pets - with all doors, windows and cat flaps shut - and act naturally, as if it is a normal evening.
For dog owners, this means walking your pooches during the day. Cat owners with outdoor cats should call them inside before dusk, and if your rabbits or guinea pigs have outdoor hutches, bring them in overnight. Microchips and collars - essential throughout the year - come in to their own on nights like these, in case (heaven forbid) the sparklers and spooks scare your pet away.
Getting settled in the 'scary' season can be hard enough for owners let alone pets. But you can help to alleviate the effects of the inevitable noise outside in various ways. Plugging in a diffuser that mimics soothing pheromones, playing a bit of music or having the TV on, for example, can help. There are even special CDs, such as the 'Sounds Scary' pack for dogs, endorsed by the RSPCA, for these circumstances. Spending time together indoors is also an excuse to dust off some pet games you haven't played for a while.
A visit to the vet beforehand might help lay the groundwork to get the most nervy of pets (and their owners) safely through the night. With some preparation, this season can go without a bang!
Do you have any experiences of a Halloween or Guy Fawkes Night with your pet that you can share? Let us know in the box below.