Social 'petworking' - are you barking?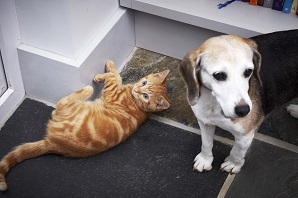 MySpace, Facebook, Twitter and other social networking sites are some of the main ways we communicate nowadays. We project ourselves into the virtual world for everyone to see. But what if our pets could share in this online experience? What would they have to tweet about? One in ten of UK pets have their own page on sites such as Facebook, Twitter and YouTube. Below are some of the most famous canines and moggies that have gained thousands of views through social networking.
Petplan's most popular pets on social networking sites
Maru the cat 6,011,610 views on YouTube
Sockington the cat 1,483,570 followers on Twitter
Boo the dog 1,329,095 'likes' on Facebook
Casey and Sassy the cats 591,652 channel views on YouTube
Bizkit the sleepwalking dog 393,993 channel views on YouTube
Beast the dog 142,810 'likes' on Facebook
Cooper the cat 71,274 'likes' on Facebook
Professor Meowington the cat - 57, 898 'likes' on Facebook
Romeo the cat 9,341 followers on Twitter
Toby the cat 3,166 followers on Twitter
It's astonishing to see just how popular some of these pets are becoming. Maru the cat was crowned the most popular pet on YouTube with over 6 million people to see the pouncing puss. He has even trumped record-breaking music sensation, Adele, who only has 2,546,954 channel views in comparison. Maru, known for his obsession with boxes and round features, has appeared on various TV shows in the US, including the Ellen DeGeneres' show.
Sockington the Cat has over a million followers on twitter, which is phenomenal. His tweets tell everyone about his daily pursuits, particularly about sleeping in odd places that he finds comfortable. He has been described as 'Garfield for the Twenty First Century.'
It's not just cats that are becoming hits. Bizkit the sleepwalking dog is shown running in his sleep. At first he twitches, but then he gets up (while still unconscious) and slams himself into the wall. There are many videos showing various stages of a dog's sleep pattern, but there are none quite like that of Bizkit.
Could your cat become internationally known from just a few videos uploaded onto YouTube? Could your dog become everyone's best friend if he gains a Facebook account? Who knows where this phenomenon could take animals and their owners?