Staffies really are softer than you think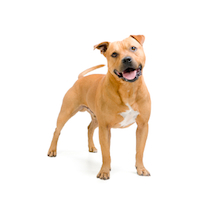 In recent years, hundreds of unwanted Staffordshire Bull Terriers have flooded animal rescue centres because of the breed's unfairly tarnished reputation. But now action is being taken to put this right.
Battersea Dogs and Cats Home has experienced a staggering 326% increase in abandoned Staffies in 15 years (that's from 580 dogs to 2,470) and other rescue centres have similar stories to tell.
Sadly, Staffies' reputation as a gentle, child-friendly 'nanny dog' has been damaged by the minority of irresponsible owners who have trained this otherwise gentle breed to become an aggressive, fighting dog. And now fewer than 10% of the population consider Staffies to be a family pet.
'Any dog can be trained to be aggressive,' explains Claire Horton, Battersea's chief executive. 'But Battersea knows that in the right environment, and with responsible owners, Staffies can make loyal and loving family pets.'
Edinburgh Dog & Cat Home recently joined in with Battersea's 'Staffies. They're Softer Than You Think' campaign. David Ewing, the charity's centre manager, says: 'It's time we gave our Staffies a chance and got to know them for the lovely, friendly dogs they really are.'
Many Staffies have been rehomed successfully, including one who regularly visits a hospital to be petted by the patients. All that's needed is some tender loving care.
Is there an adorable Staffie in your life? Have you any heart-warming Staffie stories to tell? Please let us know by commenting in the box below.