Stop your dog barking at strangers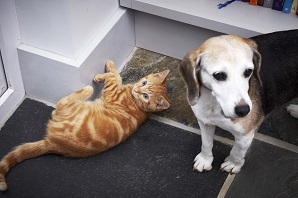 Q: My dog is normally well behaved, but when he's left in the car while I go shopping, he barks at passers-by. Why is he doing this?
A: We often use the car to take our dogs for a walk, to the vet etc, so it can become an extension of a dog's perceived territory. Your dog feels safe when you're there, so he doesn't bark, but when you leave him in the car on his own, he feels the need to defend his territory from passers-by. I recommend getting a dog crate for the car and covering it with a blanket. This way, when you leave your dog on his own, he won't be able to see out. Give him a tasty chew, too, to keep him occupied. Alternatively, leave him at home when you go shopping. However, you should NEVER leave a dog in a car in hot weather. It is very dangerous and can be fatal and dogs should only be left in the car for a short period of time.
Inga MacKellar, animal behaviourist