Stop your dog making a splash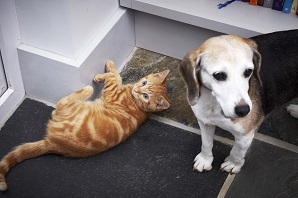 Q: I have a one-year-old Labrador and, when we let her out in the garden, she often makes a beeline for the stream, which runs into a pond. How can we stop her doing this?
A: Labradors are a gundog breed and normally love water, so your bitch is displaying natural behaviour. It sounds as if she has made a habit of running straight to the stream and pond because it's fun.
When trying to change any behaviour, think about what your pet enjoys doing the most. Does she enjoy chasing after balls?
Most Labradors also love their food! I'd recommend that when you let her out into the garden, you take a little time to interact with her.
You could throw a ball for her in the opposite direction to the stream, or play some search games with her by hiding treats around the garden for her to find. If she gets focused on these activities, this should help stop her making a beeline for the stream.