Supercat's 10-storey fall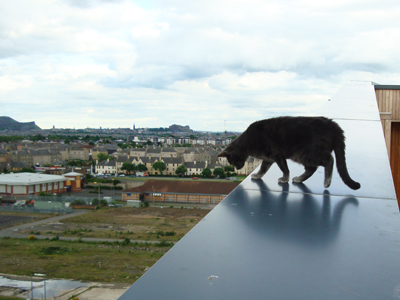 When 'Supercat' Shale had a horrific fall, her owner feared the worst. Here's how she fought her way back to health
We have two cats, Shale and Sable. We often call Shale 'Supercat', because when you hold her she likes to stretch out her legs in front of her, as though she were flying. We live on a top floor flat, with an outside roof terrace and a wide wall surrounding it. We installed a cat flap to allow the cats freedom out onto the terrace.
One morning I got a phone call from a local vet saying they had my cat. I was confused so I asked what the cat looked like. They told me she was grey, had been brought in by the SSPCA and they had scanned her microchip and obtained my phone number. At this point it dawned on me what had happened. Shale often liked to jump up onto the terrace wall, but I was never concerned about this as cats have very good balance, and the wall is about 50cm wide. Anyway, it turned out she had decided to scale down 10 storeys in a single bound.
She was in quite a mess - she suffered a split palate, her two front legs were over-extended, and a chipped tooth. The first few days were touch and go, but she pulled through and made a miraculous recovery. The vet had planned to surgically fuse a joint in her front legs where they had over-extended, but he put this off until she recovered a little. As luck would have it, she managed to recuperate successfully on her own without the need for additional surgery, and she has completely recovered now. The vet also used a technique never tried before to rejoin her split palate and Shale had lots of photos taken of the inside of her mouth for veterinary journals.
It was a great relief to have Petplan cover, so we knew the vet could take the best care of her without having to worry about the cost.
Anyway, it goes without saying that I have now put in place a barrier so that the cats can no longer go up onto the wall.
Campbell Wild, by email