The latest news from Bunker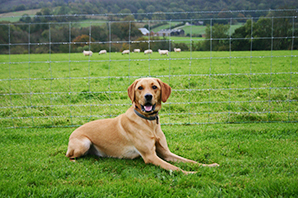 Since we last heard from Hounds for Heroes 'puppy parent', Grace Brandon, trainee assistance dog Bunker has started his advanced training. Here, Grace gives us an update on Bunker's good work, and his growing popularity.
'Since Bunker started his advanced training, he has been the centre of attention - mainly due to his affectionate nature and tendency to 'fall over' for a belly rub while being stroked!
As well as refining all the skills he has already mastered, Bunker has been going into Petersfield to do some situational training, giving him the chance to meet new people.
As the weeks have progressed, town visits have become more complicated and varied. He has encountered new places, learned to press access switches to open doors, and developed the knack of picking up shopping, such as tins and bottles, from low supermarket shelves, where a potential human partner may be unable to reach. In order to pay for the shopping, Bunker has been learning to jump up at the checkout to put the shopping on the conveyor belt and give the payment to the cashier.
In his down time, Bunker loves nothing better than chasing a tennis ball - although playtime with another dog comes a close second. With trips to various exercise areas and play sessions with different dogs, he has had plenty occasions to enjoy both activities. These play sessions, while great fun for him, are also an opportunity to practice recalls and show him that coming back to the handler doesn't mean his fun is over; in fact he gets an exciting reward and can then go back to playing!
He has also been learning some more advanced tasks recently, including pushing a door closed, tugging it open and closed with a rope on the handle, operating buttons and switches, collecting the post, retrieving a phone or keys on command from another part of the training centre, and tugging off his handler's jacket.
All of these tasks will prove invaluable when he is placed with a partner, in order to help them with everyday life. Although with Bunker, I suspect his loving nature will prove just as beneficial (and very therapeutic) - he has become a real favourite with several of our volunteer 'B&B' families who care for the advanced dogs in their homes at weekends.'
Read Grace's blog post from January about Bunker's training and development.