The Secret Life of Pets: Chloe loves her food! How can you keep your cat's waistline trim?
---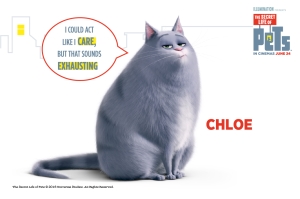 If you think you know what your pet gets up to when you're not around, the new comedy The Secret Life of Pets, which is in cinemas now, may make you think differently.
Set in Manhattan we see how Max, a pampered Terrier, and his friends fill their hours with fun and adventure while their owners' backs are turned.
One friend is Chloe, a rather, shall we say, 'tubby' cat who, like many cats, takes any opportunity to have a good feed!
It can be tricky controlling your cat's weight, especially when they roam outdoors and can access food, but you can certainly take steps to make sure your cat doesn't end up with a few excess pounds, and reduce their risk of developing liver disease, arthritis, diabetes, high blood pressure or skin problems – all conditions that can be associated with obesity.
Petplan are delighted to be a brand partner for the film and share our top six tips for keeping your cat fighting fit…
1. Is my cat overweight?
It can be difficult to determine whether your cat is overweight, particularly in long-haired breeds. Happily, Petplan has a guide for body-scoring your cat so you can check.
2. Talk to your vet
It's important to rule out any underlying health problems that could be causing weight-gain. Consult with your vet, and if your cat gets the all clear – ask your vet what your cat's ideal weight should be.
3. Cut out the treats!
The odd treat can seem like a small thing, but a couple of treats a day adds up. A piece of cheese can be the equivalent of a whole meal for your cat in terms of the amount of calories and can really add up! Reward your cat with your attention instead, such as their favourite game.
4. Try a lighter formula diet & feed little and often
Most pet food brands offer a 'light' formula for overweight cats or those prone to putting on weight. These diets have fewer calories. Follow the recommended daily amount by measuring out the amount on kitchen scales, or most pet food brands have feeding cups available which makes measuring your cat's daily amount much easier.
5. Feed little and often
Try splitting your cat's portions into smaller but more frequent meals – but still ensure you only feed their daily recommended amount. If you have more than one cat, feed them separately in different rooms.
6. Get kitty active!
If your cat would rather lounge around the house than exert themselves in any way, then making exercise fun is the best way to encourage them to get active.
Set up a daily play session with them – play ball or try cat feeder dispenser toys which make your cat work to unlock a treat. Only use their usual food (from their daily allowance) and not high calorific treats. Investing in climbing towers or shelves, whilst alternatives such as putting their feeding bowl at the top of a flight of stairs or at heights, can encourage them to move and jump.
If your feline friend is an indoor cat then consider letting them out into a securely fenced-off garden or an outside playpen. House cats can be prone to lethargy and laziness, and fresh air and new stimulation can often be the cure for this.
Does your cat love their food like Chloe? Has your pet overcome obesity? Let us know your tips in the comments below…..
---