Time for a Spring clean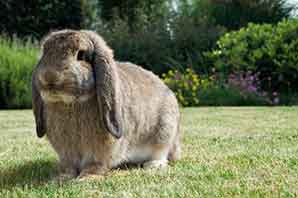 Spring has nearly sprung! For our pets, the excitement of the new outdoor ventures to come is nigh, and for us it's an opportunity to put the last signs of winter to bed.
In the first of our two-part blog about the advent of spring, we explore how to spring-clean and dust-bust your home for you and your pet.
Out with the old, in with the new
As you spring-clean your home, think about doing the same for your pet's living space. After long winter days spent indoors it's a good idea to clean your cat or dog's bedding. Their grooming habits change with the seasons, and the advent of warmer weather means thick blankets and fleeces aren't necessary. If you have washable and removable pet bedding, giving it a fresh launder (avoiding strong laundry detergents though) is always a good idea.
Similarly, a rabbit's hutch is their home, so make sure they have everything they need to welcome in the warmer weather - if you have an outdoor rabbit and you brought their hutch inside for the winter, now is the time to re-introduce them to the outside world. Make sure you clean your rabbit's hutch daily, especially if there's any wet bedding and uneaten food. And remember, rabbits are active and need a lot of exercise and space, so make sure that they are happy and their hutch is big enough for them. The Rabbit Welfare Association & Fund has a wealth of information about caring for your rabbit - both indoors and out.
Spring is also a great time to replace, or thoroughly clean, your pet's food and water bowls and toys, to stop any bacteria building up. Clean with warm soapy water, or put them in a dishwasher if they are dishwasher-safe. The same can be done for any toys that look a little worse for wear. Just make sure, if any disinfectant or detergents are used, that the dishes and toys are well aired and you can't smell any fumes before giving them back to your pet.
Conscious cleaning
When you start to attack that winter dust and dirt, try to use pet-friendly cleaning products - or at least keep your pet out of the room if you are using chemical products. There are many natural ingredients that have cleaning benefits, like baking soda, salt, vinegar and lemon juice. But sometimes chemical products are unavoidable - even if products look pet-friendly, always check the label for any warnings about toxicity levels.
As the seasons change so do our lifestyle habits. Next week's blog will look at springtime dangers and health tips for your pets.
Do you have any tips for spring-cleaning your house? Do you use any pet-friendly cleaning products?