What's the best book for pet lovers?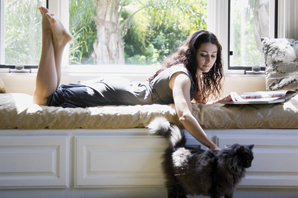 At Petplan, we are always keen to discover and share all things to do with pets. With this in mind, for this week's blog we've collected some of our favourite cat, dog and rabbit books.
From My Family and Other Animals to Marley and Me, pets have taken a starring role in many stories over the years. Here are some of our top reads from recent times - but don't forget to share yours by posting below.
The World According to Bob: The further adventures of One Man and his Street-wise Cat by James Bowen
This is the sequel to A Street Cat Named Bob, the inspirational story of a homeless London drug addict whose life took a turn for the better when he befriended an injured cat. This is a further volume of touching tales about the transformative effects of kitty companionship.
Under the Paw: Confessions of a Cat Man and Talk to the Tail: Adventures in Cat Ownership and Beyond by Tom Cox.
Cat-nut Cox shares his life with six "furry schemers", each with its own plans and singular needs - mostly running contrary to the author's own. Cat lovers will identify with the familiar trials and tribulations of ownership but the there are also broader themes about relationships and life, which are often hilarious and sometimes very moving.
A Dog's Purpose by W Bruce Cameron
Told from the perspective of a dog that never actually dies but is reincarnated, taking the lessons from his previous life to the next, this novel tries to answer the question 'Why are we here?' It's an unusual and quirky read that has found a loyal fan-base among dog lovers.
In Defence of Dogs by John Bradshaw
Written by the founder/director of the Anthrozoology Institute at the University of Bristol, this is a more academic book than the others listed here but compelling nonetheless. Bradshaw examines our understanding of dogs and turns a lot of commonly held beliefs on their head. For example, he says that dogs love humans more than their fellow species and that we shouldn't treat our canine companions as evolved wolves that need to be dominated, but rather use a reward-based approach to behaviour.
Hershey, A Tale of a Curious House Rabbit by GG Hall
It's much harder to find books for rabbit lovers, but one that has won over the hearts of readers is the story of Hershey, a thoughtful little bunny. Following his adoption from a shelter, he enjoys exploring his new home, creating all kinds of mischief with his accomplice - Pepper. This tale is suitable for young and old rabbit fans alike.
Do you have a favourite dog, cat or rabbit book? Petplan would love to hear which you like the most. Post your pet reads below!