Where did the Easter Bunny come from?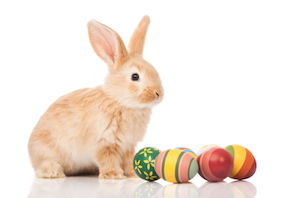 As you look forward to a long weekend, spare a thought for the Easter Bunny. The poor soul will be flat-out by Easter Monday, having dispatched multi-coloured eggs far and wide, ready for the frenzy of chocolate consumption that is Easter.
But where did this mysterious figure come from? Here, Sophie Mackenzie looks into the famous rabbit's origins.
We've all heard the expression 'breeding like rabbits', and it's thanks to their fecundity that the creatures have come to symbolise new life. So it's come to pass that rabbits are associated with springtime, which of course is when Easter falls.
The legend of a rabbit bringing sweets to children at Easter is believed to date back to 16th-century Germany, when the first edible bunnies were made from pastry. It wasn't until the invention of milk chocolate and advances in moulding technology in the early 20th century that chocolate bunnies hopped on to the scene.
Eggs, another symbol of fertility, have been given as Easter gifts for far longer. There's a record in the 1,307 household accounts of King Edward I for an order of '450 eggs, to be boiled and dyed or covered with gold leaf', and the Fabergé eggs that were presented to the Russian Tsar and Tsarina in the 19th century are still treasured by collectors today.
The Easter Bunny doesn't have a monopoly on distribution. Around the world, other animals are associated with the task. In Switzerland, Easter eggs are delivered by a cuckoo, in Sweden by a hare and in parts of Germany by a fox. In Australia, where wild rabbits are considered to be pests, the Easter Bunny has been ousted all together and replaced with the bilby, an endangered marsupial.
EGGS-TRAORDINARY EASTER FACTS
• We buy more chocolate at Easter than at almost any other time of the year. The festival surpasses Valentine's Day, Halloween and Mother's Day, and is second only to Christmas in terms of consumption.
• About 80 million chocolate eggs and bunnies are sold in the UK each Easter
• Most Easter bunnies are hollow, but there is a growing market for solid bunnies, which are cheaper to manufacture and less fragile to transport
• As the market for Easter chocolate has grown, bunnies have been produced in more and more different guises. There have been ballerina bunnies, astronaut bunnies, bunnies that glow in the dark and bunnies with exotic flavoured fillings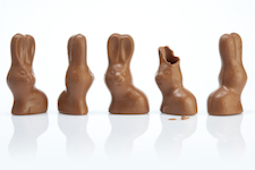 • In 2006, Harrods commissioned a replica of Lindt's iconic bunny – except their version was crafted from solid gold, adorned with rubies, citrine, topaz and diamonds, and valued at about £20,000
• Last year, Swiss chocolate manufacturer Lindt won an eight-year-long legal battle to stop an Austrian competitor making gold foil-wrapped rabbits similar to its own
• As well as bunnies and eggs, chocolate chicks are popular, and Americans have a soft spot for Easter jellybeans, which are produced in limited-edition pastel colours
• The world's biggest chocolate bunny was a replica of the well known Duracell mascot, produced by the South African sculptor Harry Johnson in 2010. The bunny, which was 3.82m tall and weighed 2,721kg, was displayed for a week before being donated to a charity for underprivileged children
• About 80% of chocolate-lovers eat their bunnies' ears first, with 5% starting at the feet and 4% going in at the tail. Who knows what the other 11% do…
YOUR PET RABBIT
If you want to treat your own bunny this Easter, don't be tempted to share your hot cross buns or chocolate eggs with him. High-carbohydrate food causes rabbits to pile on the pounds, and chocolate is toxic to them. Instead, opt for small pieces of fresh fruit – strawberries are popular and will leave your bunny with a cute pink-stained chin!
Of course, the vast majority of a rabbit's diet should consist of hay, with raw vegetables added occasionally and fruit only as a very rare treat. But Easter only comes once a year, after all.
What will you and your rabbit be getting up to this Easter? Let us know in the comments box below.