Why is my dog going bald?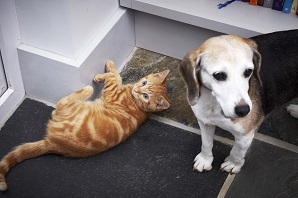 Q: Our old Schnauzer, Ernie, has a bald patch near his tail that seems to be getting bigger. The vet has treated him for mange and fleas, but the bald patch still seems to be getting larger.
We are getting really worried now, and the vet doesn't seem to know how to treat it. Any ideas?
A: This could be a case of the condition known as hypothyroidism, a hormonal disorder in which the thyroid glands don't produce the correct amount of thyroid hormone. This can result in many changes, most notably a thinning of the coat.
More common in older canine patients, hypothyroidism can be tested for by taking a sample of blood from Ernie to test for thyroid hormone and thyroid-stimulating hormone. Discuss this possibility with your vet, as this condition can be easily treated with supplement hormone to eventually cover up Ernie's patchiness.