Why microchipping your pet is essential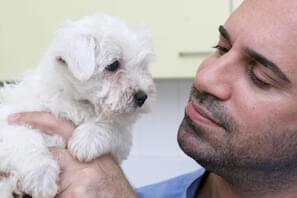 Vet Marc Abraham explains why microchipping your pet is an important part of being a responsible owner
June is not only Dental Care Month - it's also National Microchipping Month.
Throughout June, many vet practices and local animal rescue centres will be offering you various incentives to get your pet chipped (if, of course, it hasn't been chipped already). They will also be asking you to check that all your contact details are up-to-date.
A microchip is only slightly bigger than a grain of rice, and it takes a vet a few seconds to implant one into your pet's 'scruff. Once your pet is chipped, your contact details are immediately entered into a special database - so if your pet were to go missing and be found by a dog warden, animal shelter or vet, they can quickly and easily be scanned, identified and reunited with you.
A microchip lasts for the life of your pet and can't be removed easily like a collar tag. And as long as your contact details are kept current, you can be reunited even if your pet were to be found hundreds of miles away.
'Is it really that important that I microchip my pet?' I hear you ask. Well for such a simple, safe, quick, and relatively cheap and painless procedure, it can be the difference between seeing your pet again and losing them for good, should they stray, go missing, or - heaven forbid - get stolen.
If your pet does go missing, you'll need to inform the microchip database which will then then send out alerts to local vets and dog wardens on your behalf.
Most vets, rescue centres, dog shows and training clubs will offer a good microchipping service, and it usually costs between £10 and £30 per pet - a small price to pay when you consider it's a one-off process that will last for life.
You may have noticed that there has been a lot of talk about microchipping in the media recently, as some MPs have brought up the subject of making microchipping compulsory for all dogs.
Currently in England and Scotland, no decisions have been made, but Northern Ireland began implementing compulsory microchipping in April 2012. And Wales has announced that it will shortly be releasing a consultation on compulsory microchipping.
My belief is that microchipping is essential and a major part of being a responsible pet owner. By making sure pets are reunited quickly with their owners, we can help to reduce the number of stray dogs and cats in welfare centres, as well as making puppies traceable to their breeders.
To make an appointment for your pet to be microchipped, call your vet today.
Marc Abraham is a TV vet who regularly gives the nation pet advice on This Morning, BBC Breakfast and Daybreak. As well as promoting responsible pet ownership, rescue pet adoption, microchipping and responsible dog breeding, Marc is also an active campaigner against the puppy farming industry and is the founder of Pup Aid. Marc has also written the books Vet on Call and Pets in Need and also has the Canine Care iPhone app for dog owners. For more about Marc, visit www.marcthevet.com or follow him on Twitter @marcthevet