Make the festive season extra special for your cat with luxury treatments that you can recreate at home.
---
Christmas presents for pampered pets
Have you ever considered treating your cat to a Christmas present? You're not alone. Recent research shows that British pet owners spend a combined £11.6 billion* a year on gifts and activities for their pets. In fact, cat owners were each found to splash out an average of £495* annually, and none of those surveyed felt that they were spending unnecessarily. After all, it's how you'd look after any other member of the family, isn't it?
So, with the festive season around the corner, we've taken a look at some of the most luxurious ways to pamper your pet. Read on for the top treatments available, and how you can give your cat a similar Christmas present (for a fraction of the cost).
If you'd like to splash out, try...
Star-worthy grooming
If you'd like to give your pampered pet the ultimate grooming treat, look no further than The Pet Spa. Formerly housed in Harrods, the spa now occupies 3,000 square feet in the heart of London's Chelsea and promises to provide 'a calm, relaxing safe haven in which pets can be groomed, indulged and revitalised'. Services are offered for cats, dogs and even rabbits, tortoises and hamsters. Pudsey, the canine winner of Britain's Got Talent, was said to love The Pet Spa's personalised blow-dry and massage treatments.
If this sounds like your cat's cup of tea, why not treat them to a full body groom? They'll receive a waterless bath, nail trim, pad and paw fur trim, and a custom coat styling with a spritz of luxurious pet-friendly cologne. Or, if your cat is likely to get a little restless, there's an equally indulgent, but much faster, 30-minute express option.
Healing massage
Reiki, a form of massage from Japan, is being touted as the hottest new alternative therapy for pets. Based on the idea that all living beings have life energy, Reiki aims to keep your pet's energy healthy and balanced. A practitioner will channel healing energy through their hands, using a light touch either directly on your cat's body or from a distance.
While Reiki is of course no substitute for medical treatment that's been prescribed by a vet, its fans report that it leaves their pets more relaxed and less prone to anxious behaviour. Advocates also claim that it's especially beneficial for cats, believing them to be naturally receptive to the energies it uses.
Intrigued to find out more? Reiki is now on offer at luxury cat hotels or through private practitioners in all major centres.
Premium hotel holidays
When Abi Purser couldn't find a high-quality cattery in her area for her beloved cat, Norman, she decided to open one herself. And so the luxury Longcroft Cat Hotel was born – first welcoming feline guests in 2010 and since spreading to 20 different locations across the UK.
The boutique hotels offer top-notch cat accommodation and gourmet meals, as well as spa treatments that have been carefully matched to each pet's personality. 'Not all cats would enjoy all our treatments, so what we offer is tailored to your pet,' Abi explains, adding that she and the other Longcroft managers make sure they know what a cat's likes and dislikes are before they come to stay. They also ensure that cats are as relaxed as possible, using plug-in pheromone diffusers if needed and, if a cat likes it, adding in a paw massage as part of their spa package.
'I use Espree Paw Balm, warming it with my hands and then gently massaging a cat's paws while they're lolling about in bed,' she says. 'The balm helps to moisturise the paws' delicate skin, which is especially good in winter when it can get dry.'
For a more budget-friendly option, try...
...recreating a spa experience for your cat. It's not only a cost-effective option for Christmas, but also gives you time to enjoy each other's company and bond – the best gift of all. To help you get started, we've rounded up our favourite spa-inspired Christmas presents for your pampered pet:
1. John Paul Pet Waterless Foam Shampoo for cats and dogs, £15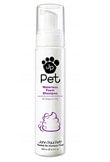 Most cats will groom themselves, but if yours is struggling or in need of extra-special grooming, Abi recommends using the John Paul pet range. It's been created by the team behind Paul Mitchell hair products for humans, and is tested on people before it gets the green light for pets. 'This waterless shampoo is especially lovely for older cats that are finding it more difficult to groom themselves,' Abi says.
2. Kong Cat Zoom Groom, £5.99

The soft, rubber fingers on this grooming tool massage and groom at the same time, and are a magnet for loose hairs (a plus if your cat tends to shed!). Regular brushing with the Zoom Groom can also help to reduce hairball formation and prevent tangles and knots in longhaired cats.
3. Espree Paw Balm, £12.75

Made with only natural, pet-friendly ingredients, this balm adds a protective layer to paws and can help your cat avoid chapped or cracked skin this winter. Try warming a small amount in your hands and then using your thumb to rub it on your pet's feet in a circular motion, after you've been cuddling and they're feeling especially calm and relaxed.