Make the festive season extra special for your rabbits, with luxury Christmas presents and treatments that you can recreate at home.
---
Christmas presents for pampered pets
Have you ever considered treating your rabbits to a Christmas present? You're not alone. Recent research shows that British pet owners spend a combined £11.6 billion* a year on gifts and activities for their pets. But none of those surveyed felt that they were spending unnecessarily – after all, it's how you'd look after any other member of the family, isn't it?
So, with the festive season around the corner, we've taken a look at some of the most luxurious ways to pamper your pets. Read on for the top treatments available, and how you can give your bunnies a similar Christmas present for a fraction of the cost.
If you'd like to splash out, try...
Star-worthy grooming
If you'd like to give your pampered pets the ultimate grooming treat, look no further than The Pet Spa. Formerly housed in Harrods, the spa now occupies 3,000 square feet in the heart of London's Chelsea and promises to provide 'a calm, relaxing safe haven in which pets can be groomed, indulged and revitalised'. Services are offered for rabbits, cats, dogs and even tortoises and hamsters. Pudsey, the canine winner of Britain's Got Talent, was said to love The Pet Spa's personalised blow-dry and massage treatments.
If this sounds like your rabbits' cup of tea, why not treat them to an hour-long full body treatment? They'll receive a waterless bath, brushing, a professional nail trim and, if it suits their breed, a custom coat styling.
Healing massage
A massage can make an excellent Christmas present for your pets. 'Rabbits have longer back legs, shorter front legs and a rounded back,' explains Sue Julian, who offers mobile pet massage therapy in Kent. 'That rounded stance can take its toll on their spines, so they can benefit from a light-touch massage to help keep them mobile as they get older.'
However, she recommends asking for your vet's advice first. That way, you can be sure your bunnies are being treated by a reputable therapist who is properly trained and can prevent any small issues from getting worse. A good pet massage therapist will also allow the treatment length to vary according to each rabbit's personal tolerance. 'Overall, it should be part of a holistic way of looking after your pets,' Sue says.
Alternative therapies
Reiki, a form of massage from Japan, is being touted as the hottest new therapy for pets. And while it may not be on your radar for rabbits, Sue Malcolm, founder of Friends Of Baxter Animal Care and master Reiki practitioner, says that all animals can benefit from it. 'It's a natural treatment that's relaxing,' she explains.
Based on the idea that all living beings have life energy, Reiki aims to keep your pet's energy healthy and balanced. A practitioner will channel healing energy through their hands, using a light touch either directly on your rabbit's body or from a distance.
While Reiki is of course no substitute for medical treatment that's been prescribed by a vet, its fans report that it leaves their pets more relaxed and less prone to anxious behaviour. 'Reiki may help to reduce stress, discomfort or pain, and assist in recovery from illness or surgery,' Sue adds. The length of treatment is led by the rabbit and can last from 30 minutes to an hour. Afterwards, rabbits are usually quite relaxed and some fall asleep.
For a more budget-friendly option, try...
...recreating a spa experience for your rabbits. It's not only a cost-effective option for Christmas, but also gives you time to enjoy each other's company and bond – the best gift of all. To help you get started, we've rounded up our favourite spa-inspired Christmas presents for your pampered pets:
1. John Paul Pet Waterless Foam Shampoo, £15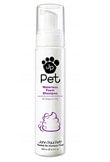 If you think your rabbits might enjoy it, why not give them some extra-special grooming? This John Paul waterless shampoo has been created by the team behind Paul Mitchell hair products for humans, and is tested on people before it gets the green light for pets.
2. Sharples and Grant Rabbit Groom 'n' Kit, £4.99

Pampering your pets should be all about keeping them in tip top condition. This kit comes with everything you need: a soft bristle brush, shedding brush, nail clippers and a tasty chew as a reward.