It's almost that time of year again… Christmas. And, in the flurry of buying, baking, making, wrapping and decorating, it would be easy to overlook some very important members of your family. But your beloved bunnies can join in with the festivities, thanks to our quick guide to the best gifts you can buy – and creative ideas for DIY rabbit treats.
---
Get creative: how to make the perfect presents
1. Think outside the box
You'll need:
1 cardboard box
Plain wrapping paper
Ribbon
Carrot slices
Christmas presents for rabbits don't have to be pricey. Have you ever noticed that children seem more excited about the packaging than the actual present? The same is true of bunnies! So why not create a beautifully wrapped gift box that will provide hours of entertainment for your furry friend? It's a great way to use up leftover packaging from Christmas deliveries, too!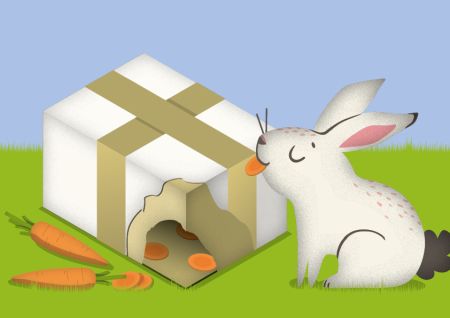 Find a plain cardboard box and make sure there's no ink on it, as this can be harmful for nibbling bunnies – and remove any sharp edges, staples or sticky tape. You could stash some carrot slices inside as a little surprise. Wrap the box in paper (again, avoid ink – plain brown paper is a good idea), then tie around a piece of jute or ribbon. Your rabbit is sure to love chewing, scratching, jumping and hiding inside. Remember, once the box gets really torn, it's best to remove it so that they don't swallow any small pieces.
2. Delightful decorations
You'll need:
1 plain cardboard box
Pen
Scissors
String (natural)
Pinecones
A small branch
Decorations are one of the best parts of Christmas, and this bunny-friendly idea is quick, easy, free and fun… what could be better?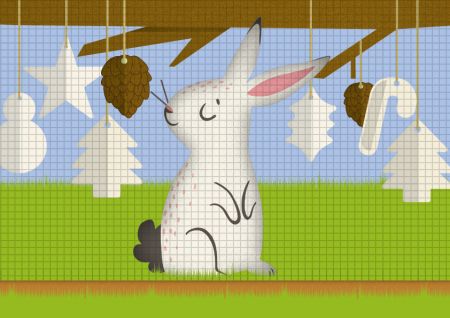 Take some plain cardboard (a great way to reuse boxes from all those deliveries you're no doubt receiving!) and, using a non-toxic pen, draw on some shapes like snowmen, stars, sleighs, reindeer, holly, baubles and Christmas trees. Cut around these with scissors and make a small hole in the top of each one, to thread some string through. You could also thread some pinecones for an extra festive touch. Hook the individual decorations onto a small branch and hang this in your rabbit's enclosure so they can nibble and gnaw.
3. It's a cracker
You'll need:
Toilet roll tube
Hay
Leafy greens
Plain wrapping paper
Ribbon
Non-toxic pens
Why not have a go at making your bunny their very own Christmas cracker? This a great stimulating toy for rabbits, and one that provides them with hay – great for a healthy diet, and chewing helps strengthen their teeth.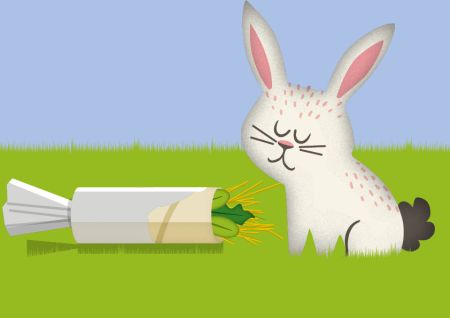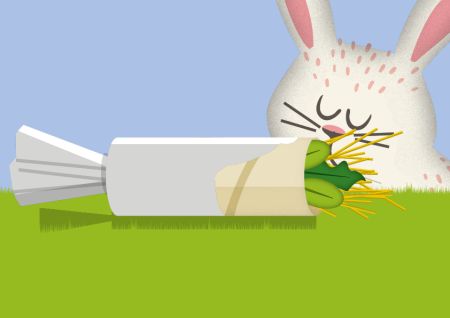 Stuff a toilet roll tube with hay or leafy greens, like spinach or kale, then wrap it in plain paper. Twisting at the ends and tie with a ribbon, then draw on your own designs using a non-toxic pen. Voila – you have a bespoke bunny cracker!
Get shopping: where to buy the most gorgeous gifts
1. Stocking up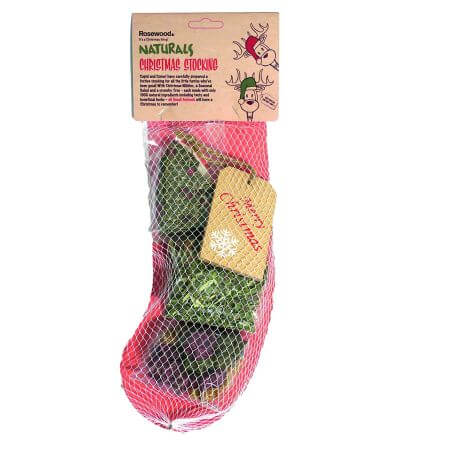 It simply wouldn't be Christmas without a stocking, and your rabbit needn't miss out on the excitement – there are plenty of stockings available that are filled to the brim with treats and chewable toys for rabbits. With a gift like this, you might find your rabbit is one of your most grateful recipients this year.
2. Terrific toys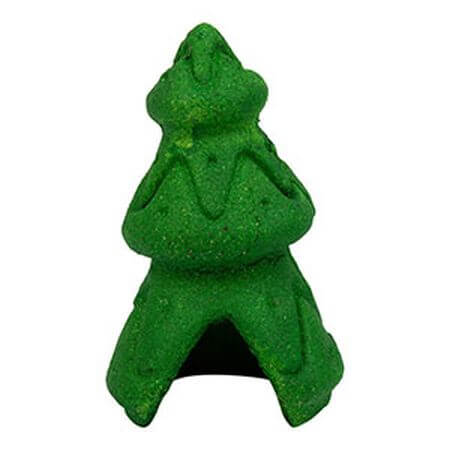 Highly sociable animals, rabbits should never be kept alone. Toys can also help maintain their wellbeing and happiness, as these help alleviate boredom and give your bunny an opportunity to dig, jump, chew and enjoy the natural behaviours they'd display in the wild. What better time to buy your bunny a new toy or two than at Christmas? Supermarket and pet shop shelves will be brimming with fun play things – some with a festive twist, like a chewy Christmas pudding or a squidgy Santa, provide an added dose of festive spirit.
3. The final countdown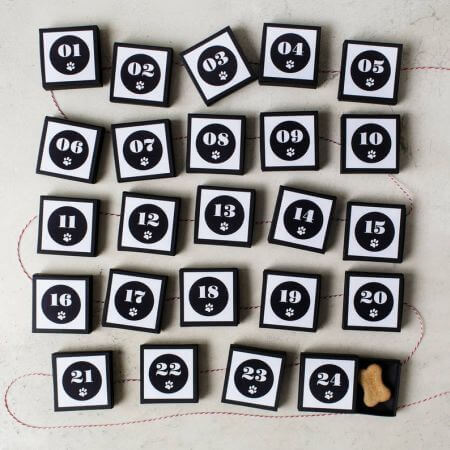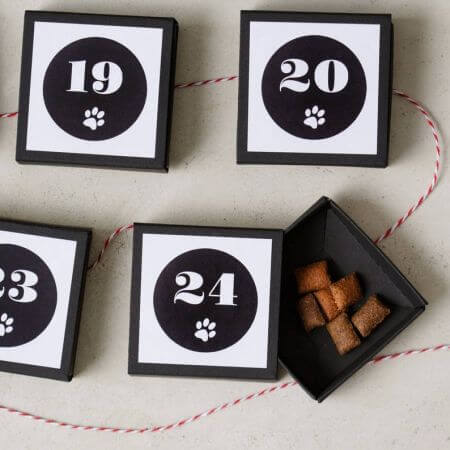 Who says advent calendars are just for children (and young-at-heart adults)? There's no reason why your rabbit can't join the countdown to the big day along with the rest of the family. There are lots of advent calendars available for small pets, all hiding little gifts behind their 24 doors. As always with your rabbit's diet, it's important not to give too many treats and to stick to the correct portion sizes so their weight doesn't creep up. You could even think about buying a reuseable calendar, which you can fill back up with your own healthy treats and toys next year.
Have you created some festive gifts for your bunnies? We'd love to see them! Post a picture of your homemade presents on Instagram or Twitter, tagging @Petplan_UK with the hashtag #PethoodStories.