Pet furniture ideas for your cats and dogs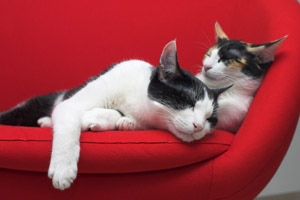 Owning a cat or dog means giving over your home to a pet who, surprisingly enough, may not have the same respect for your newly refurbished chaise lounge as you do.
However, there's a growing trend for specially-designed pet furniture that will allow your furry friend to be stimulated and entertained within your home.
Below are some of the most innovative and interesting examples that Petplan has come across. As always, if there's anything you think we've missed, let us know in the comments below…
Starting with something relatively simple, this chair or sofa cover allows your cat or dog to lie on your furniture without getting hair everywhere. It's got raised sides to give them their own space and somewhere to rest their head, but still allows them to clamber over when you want to cuddle up together.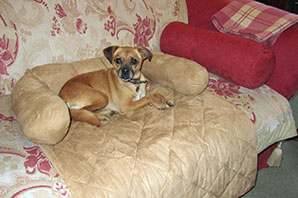 It may be hard to imagine as we enter the darkest and coldest months of the year, but there is a period of the year (it usually lasts a couple of days) when being outside is a pleasure rather than a chore. This lets your pet to sit outside and keeps your dog safe from the sun's rays – although there's a good chance you'll want to join them for a snooze in the shade.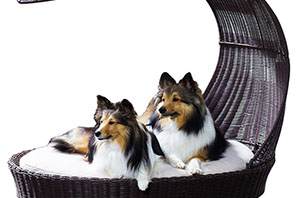 A blanket may be enough for most cats and dogs but, if your pet demands a bit more luxury, then this hammock could be the answer. Anyone who's ever attempted to get into a hammock will know just how tough it can be but, with a sturdy frame, your pet should be able to manage it more gracefully than their human counterparts.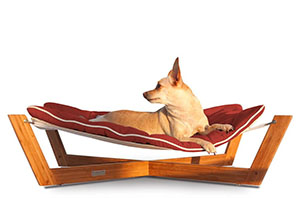 Incorporating interesting spaces for your cat to play into your home can be a tough ask. However, this book case has been designed to provide stairs and climbing opportunities for cats, as well as a place to store your paperbacks – as long as you don't mid a few scratches on your first editions.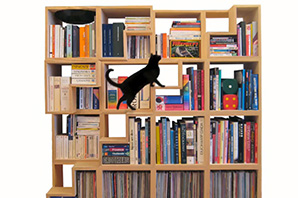 Bringing together a climbing frame for your cat and a place for them to rest, this is attached to your wall and comes in a variety of different styles. However, it's not cheap and having a hammock and play area attached to your living room wall wall may not be to everyone's taste.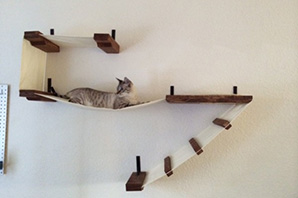 *Products are not endorsed by Petplan
Is there a great bit of furniture you can't live without? Is there something your pet loves to scratch to pieces? Let us know your story below…