Winter paw care for cats Winter paw care for cats Winter paw care for cats and dogs: shoes, balms and moreamp dogs: shoes, balms and more dogs: shoes, balms and more
---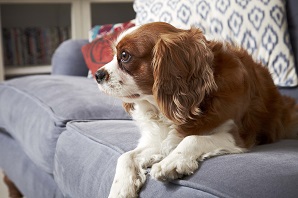 The weather may still be someway off its winter worst, but now is the perfect time to start preparing your pet for the colder months – and one thing that needs plenty of attention is their paws.
Despite cats and dogs appearing to stride around on harsh terrain without a care in the world, their paws can be sensitive and require lots of care.
Petplan takes a look at how you can ensure your pet's paws come through the winter months unscathed…
Looking after your dog's paws this winter
Dog paws can be exposed to all sorts during the winter months, including chemical burns, cracking of the skin, frostbite and even hypothermia. But there are things you can do to help:
Invest in a dog paw balm
One simple way to help your dog prepare for venturing outside in cold weather is to purchase a dog paw balm and apply before they leave the house.
Before applying, simply prep your dog's paws by trimming away any long hair surrounding the paw area to make sure no hair will have contact with the ground. This will help when applying the balm and will also prevent ice balls forming around the pads, which can be painful for your pooch.
Be careful around de-icers and salt on the roads
Be very cautious of de-icing chemicals and salt on the roads as they can be extremely hazardous to our canine pals.
The large salt crystals can cut your pet's paws and the salt can irritate the skin and cause sores, so avoid areas where you know salt has been spread and stick to grassy or sandy places for long walks.
If you need to de-ice your drive then there are options other than salt or harsh chemicals. There are companies that claim to produce a de-icing product that is safe for dogs although many owners swear by using cat litter in place of any de-icing product.
While it may not melt the ice in the same way as salt, the cat litter will provide traction where you need it and will stay in place longer than the salt which will vanish as soon as the ice has melted, leaving the area prone to re-freezing.
It is also worth taking a small towel with you on long walks to immediately clean off any salt/grit that may become caught between their toes or stuck to their paw pads.
After care is vital following a winter walk
Caring for the paws after your walk is particularly important. Anyone who has experienced chapped lips in winter will know that coming into a warm home after a freezing walk can result in dry, flaky skin – which is exactly what can happen to dog paws.
Keep your home as humid as possible and make sure you wash and dry your dog's feet as soon as you come back from your walk, giving the paw and areas between their toes special attention.
Once their paws are dry, apply a balm across the paw pads which will prevent further drying out and cracking of the skin.
Do you need to invest in dog shoes?
Many pet stores stock dog shoes and, with plenty of winter hazards to be wary of, it can be tempting for many owners to purchase a set for their dog.
However, Petplan vet Brian Faulkner feels there is very little need.
"It's rare for a healthy dog to need shoes," said Brian. "Especially in the UK.
"Some people may consider using them as a preventative measure but poorly fitted shoes can cause rubbing and even slip during walks, which could actually cause injury rather than prevent it.
"If your dog does have a foot issue that needs protecting then your vet will advise the best course of action."
Looking after your cat's paws this winter
When it comes to our feline friends, there are also a number of helpful tips and pointers that can keep their paws in good health this winter.
Make sure you check their paws regularly
Cats love exploring and even in the bleak mid-winter they will embark on garden adventures.
Because you often don't know where your cat has been during the day it's important to regularly check their paws even if they don't appear to be in discomfort.
Inspect your mogg's feet during their evening massage when they are more likely to be relaxed. Pay special attention in between the toes where small objects can become lodged and if you see any bleeding or scratches contact your vet for professional advice.
Aftercare is also vital for cats
As with dogs, the changing temperatures can cause your cat's paws to become sore and their pads to crack.
Make sure you regularly massage in specialist paw balm during the colder months to ensure their paws stay moisturised and free from cracking.
What tips do you have for keeping your pet's paws healthy this winter? Let us know below…
---