The outdoor environment offers a complex mix of smells, sights, sounds, tastes and textures for your cat. With their natural tendency to explore, roaming in the open provides cats with a physical and mental workout that releases feel-good hormones and reduces stress. When chilly weather keeps cats indoors, some pets may show signs of frustration, such as scratching at furniture or over-grooming. There are steps you can take to make indoors just as exciting. Here, three owners reveal their own tried and tested tips and tricks for keeping boredom at bay.
Make a hammock
Jane Massey, owner of nine-year-old cat Jemma, has a number of tricks up her sleeve: 'My Persian has a natural drive to scale heights and definitely feels safest when she's high up. Her favourite outside perch is the garage roof, so she can survey her territory. In the colder months, I try and recreate this indoors by clearing shelves and wardrobe top, and positioning chairs or stools nearby to help her climb.
'Much to her delight, when it gets cold, I'll drag out the spare mattress from underneath my bed and lean it against the wall. She likes to jump up on its snuggly top or crawl behind it and curl up on a pillow I've put there.
'Making a DIY hammock for your cat to relax or play in is really easy using a worn-out, stretchy t-shirt, some scissors and a sturdy dining room chair. Simply cut open the shoulder areas and down each side 15-20cm, tying the ends firmly around the chair legs.
Jemma's favourite indoor spot, though, is definitely the kitchen windowsill, overlooking the back garden which is covered with bird feeders, light catchers and colourful mobiles. Using a fleecy blanket and a couple of her toys, I create a snug enclave for her where she'll sit transfixed for ages.'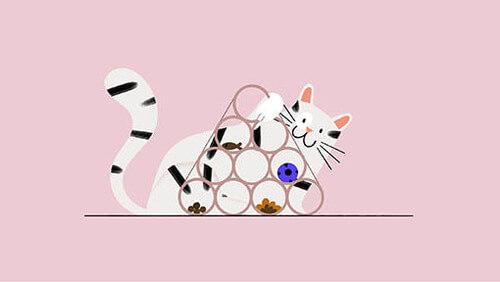 Put on a magic show
Debbie McMahon, owner of eight-year-old cat Minnie, plays guessing games: 'Rather than chasing a toy mouse around, Minnie likes to watch and work things out. When it's cold outside, I'll put a bell under one of three identical coloured cups before shuffling them round like a magician. When I stop, she'll touch one of the cups with her paw. It's amazing how many times she's right!
'Another game she enjoys is finding a treat I've hidden in a crumpled piece of paper. She'll delight in sniffing and gently tapping it, before getting excited and eventually tearing the paper to shreds.
'Minnie's newest favourite toy is a pyramid I made from the cardboard insides of empty toilet rolls, which I taped together. Inside the tubes I hid her favourite cat treats. You can do the same with empty egg boxes. Sometimes I'll just call her name, then make for the stairs and she'll race up ahead of me – cats have great agility and this type of cat exercise helps to keep her muscles toned. The games we play together also strengthens the bond between us.'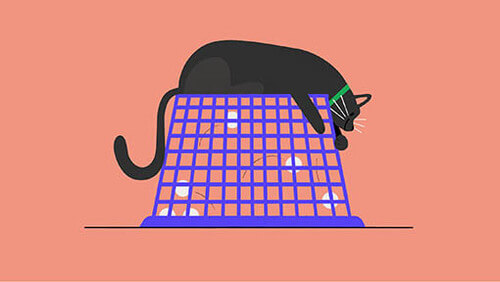 Save ping pong balls
Meg Wright, owner of 18-month-old cat Leo says, 'Leo is a prolific hunter. When he's stuck indoors, he has a tendency to scratch beds, couches, and anything he can get his claws into. Having regular play sessions up to 10 times a day, in short bursts of around two minutes, keeps him engaged and feeds his hunter spirit.
I offer plenty of toys – the more they crinkle, dazzle and can be batted the better - but you can just as easily make your own.
'I'll cut out holes in empty cardboard boxes for him to explore, or hang ping pong balls in an upside-down washing basket and watch him sticking his paw through the holes to push the balls around.
'To keep our games fresh, I swap his toys over regularly, always keeping his favourites hidden away until play begins, which gives an added thrill. At feeding time, I'll hide morsels of food around the house or, if I'm pushed for time, he has a cheap but effective feeding puzzle. I've discovered Leo finds his scratching posts more enticing with a spray of catnip. Sometimes he'll fall asleep by the side of one, exhausted from all the activity.'