Dog activities in summer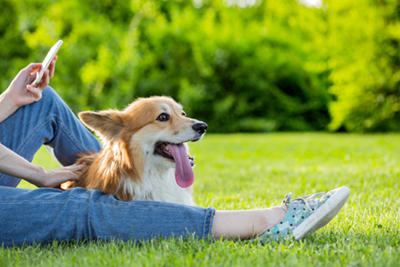 Dog activities in summer
The warm air, dazzling sun and long days that summertime brings mean plenty of opportunities for both you and your dog to get out and about. If you're stuck for ideas for what to do with your pooch this year, and want to know how to keep your dog cool at the same time, Petplan has compiled a list of the dog activities in summer.
Fun with water
One fun summer activity for you and your dog, which is also a great way to beat the heat, is to introduce some water toys into your playtime.
This could be as simple as turning on a sprinkler, getting out the hose, or filling up a watering can or paddling pool, many dogs love to splash about in the water and incorporating this into playtime also helps to keep them cool.
If you engage in this sort of activity regularly, you can even train your dog to realise that the water is what helps them cool. So not only is a water fight with your dog a fun way to spend an afternoon, but it can also teach them a valuable skill in looking after themselves.
It's important to note that while the hot weather and sunny days do allow us to spend more time outside with our pets, many dogs struggle with excessive heat due to their inability to regulate the body temperature the way we can. This goes double for brachycephalic breeds and breeds with thicker coats. Make sure you have plenty of water, food, and shade, and if your dog appears to be struggling then it's time to cool off. If you would like more guidance on how hot is too hot for your dog make sure to check out our summer heat infographic.
Frozen treats
Frozen treats for your pet offer a chilled and refreshing way to cool down while we take a break from the sun to refuel.
However, be aware that you should not give your dog ice cream, as the artificial sweeteners found in treats like these can be toxic to dogs.
While dogs won't be able to enjoy the same kinds of treats as us, you can make some of your own that your dog will be sure to enjoy.
For one, you can fill up a second bowl of water and place it in the freezer overnight. The next day your dog will be able to drink from their normal water bowl, as well as an ice bowl that will slowly melt throughout the day to help keep them cool.
Additionally, you can create your own frozen beef broth treats using just meat and water. Just leave the meat and water to boil and when it cools, remove the fat and freeze the mixture using an ice cube tray. You can even put a little bit of meat in each cube as a reward. You should avoid using store-bought broths, which may contain garlic, onions, or other harmful ingredients.
Treasure Hunt
Depending on how your dog copes in the sun, this activity that can take place either indoors or outdoors, all while keeping your dog's mind active and engaged. Start off easy by allowing your dog to watch you hide a toy or treat somewhere, and then get them to find and collect it.
Continue making the hiding places more and more difficult, increasing the reliance on your dog's sense of smell to locate the treasure. This will help to keep your dog's mind stimulated for longer periods. Just make sure to reward your dog with praise and attention when they are successful.
There are also lots of puzzle games you can buy to keep your dog entertained and mentally stimulated and if needed, out the sun.
A day out
A great way to get the most out of summer with your dog is to organise a day trip, either with friends and family or just you and your pooch. Not only will this help you both get some fresh air and exercise but new areas or trails can be incredibly stimulating for dogs, and if they have a chance to meet some new friends that just makes it even better.
Some of our favourite dog days out include a trip to the beach or lake, a country walk, or even just taking a trip out for a pub lunch. Just make sure that you carry plenty of water with you and an umbrella so that you can give your dog some shade if they're getting too hot.
Take a break
Not every summer activity needs to make the most of the sun, which is why we suggest that sometimes there's nothing wrong with having a rest.
While playing outside in the sun with your dog is always a fun and joyful experience, sometimes it's just too hot and a midday break is exactly what you both need.
The hottest part of the day is the middle, therefore, this makes midday the most dangerous part of the day due to this excess heat. You should always try to avoid the midday sun due to the damage it can do to both you and your pet, so why not slip inside and get comfy until things cool down a little.
Do you have any fun dog activities in summer that you and your dog love? Let us know in the comments below.
Related Articles