Four canine 'superfood' for 2012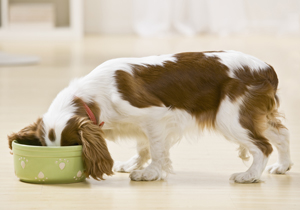 We've asked vet and nutrition columnist Alison Logan for her top 'superfood' recommendations to help get your dog fit in 2012. The best news of all? A lot of them cost nothing
Water
Yes, good old H20, available for free from a tap near you. But we're not joking - getting hydration right is absolutely essential for good health and the correct functioning of your dog's organs.
The average normal water consumption is approximately 40-50ml per kilo bodyweight per day. An excessive thirst (or polydipsia) warranting further investigation is generally when daily consumption exceeds 100ml per kilo.
New Zealand green-lipped mussel
Considerably more exotic, and certainly not without cost, but still worth considering. It contains chondroitin and omega-3 fatty acids for the joints, and is useful in both young active dogs, and older dogs with stiff joints.
Fish oil
A source of omega-3 fatty acids, which have anti-inflammatory properties in the joints and skin. Research has also shown fish oil to be useful in dogs with heart disease. Fish oil is preferable to cod liver oil, which is not as good a source of omega-3 fatty acids and has undesirably high levels of vitamins A and D.
Fresh air, exercise and mental stimulation
Not a tangible superfood but incredibly important for general health, not only for our dogs but also for us. Walking the dog is a great excuse to leave the chores and switch off whilst enjoying the outdoors - even being in the garden whilst an elderly dog potters or a puppy plays. A dog is 'man's best friend', so make the most of his or her companionship!
The bigger picture
Taken as a whole, a superfood could be said to be a diet of the highest quality ingredients and with a perfect balance of protein, carbohydrate, fat, vitamins and minerals to suit your dog's life stage, activity and health status. So, in some respects, there's no such thing as a 'superfood' at all - just a good diet.
Do you have any superfood or health recommendations of your own? Let us know by commenting below.