Four easy ways to get fit - with your dog's help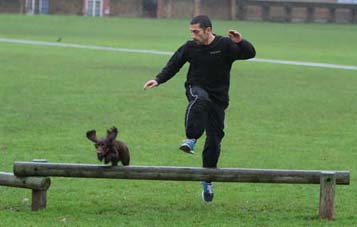 Looking to improve your fitness, but less keen on blowing hundreds of pounds on a gym membership? Then why not combine a new fitness regime with your dog's daily exercise? It's easy, and your dog will love it too.
Expert research has shown that the average cost of a monthly gym membership is £31*, which works out at £372 a year. So if you want to shed the pounds but keep your bank balance healthy too, exercising with your dog is the perfect solution.
We've spoken to personal trainer Mickey Cunningham from Body Studio gym, and he's recommended these fun, effective and low-cost ways to get fit with your dog.
1. Canine cross-country - good exercise for the dog and high impact cardiovascular activity for owner. Set yourself realistic targets and try and improve your speed on a weekly basis by timing yourselves.
Training Tip: Try to run for five minutes, sprint for two minutes, run for five minutes, sprint for two minutes. Repeat (depending on your physical ability). Remember to always warm up and cool down.
2. Agility obstacle course - helps strengthen and maintain dog agility whilst also serving as an aerobic workout due to stopping, starting, bending and stretching at the various obstacles for owner. The local playground once the kids have gone home would be the perfect course to offer good variety. Again, time yourself to keep it challenging.
3. Arm exercises - throwing a frisbee or ball for your dog is a great way to help tone your arms; playing tug of war with your dog is an excellent way to stretch your biceps before or after a workout.
Training Tip: Do ten repetitions on your right arm and then ten on your left. Pause for a few seconds and repeat (depending on your physical ability).
4. Working Trials - get a fit body and an obedient dog at the same time! This civilian equivalent of police dog work includes obedience, control, agility and fitness. It is a great cardiovascular workout, and the agility training helps keep your body supple.
Training Tip: Set up a course using cones or something similar and then take a 30-second break between trials. Repeat 10 times.
Mickey recommends rotating these activities over the course of the week, so you can enjoy real variety and keep your dog interested. For example, here's how you could do it:


*http://money.uk.msn.com/your-cash/photos.aspx?cp-documentid=152965971&page=6