Lucky's lucky return to health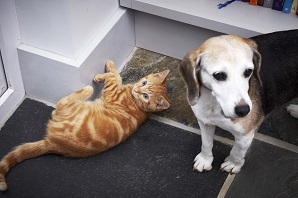 Here's a lovely letter we received from Margaret Mortham, whose Petplan policy has been essential in saving her cat Lucky
Thank you for the cheque you recently sent me. If it weren't for Petplan, my cat Lucky would not be alive, as I could not afford the vet fees.
Lucky was very ill when he was about three years old. He required surgery and has needed continuous medication ever since. He is now a sedate 16-year-old but he still enjoys life, and I enjoy his company.
Although a lively farm kitten, not once has he brought a mouse or a bird into the house. His specialities were earthworms and bluebell bulbs - neither of which could have needed much catching! Maybe it was because, in the spring, when just sprouting, bluebell bulbs look just like mice with little tails.
Margaret Mortham, via email
If you'd like to tell us your Petplan Customer Story, just email us at: petplanblog@petplan.co.uk