Petplan July prize draw winner: Battersea Old Windsor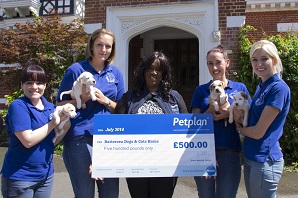 Battersea Old Windsor has been helping rehome cats and dogs for more than 30 years but, despite their huge success, they can always do with some extra help.
That's why they're an official charity partner of Petplan and why this great charity is the deserving recipient of our £500 charity cheque for July.
We caught up with Communications Officer, Melissa Clarke, to find out more about the work they do and what the money has been used for…
Hi, Melissa, what does winning the £500 prize draw mean to Battersea Old Windsor?
"Donations like this are vital to ensure we can keep doing the work we do. I've been working here a year and it's been brilliant to see the amazing work that gets done – but we'll always need donations to help us maintain the standard of care we pride ourselves on."
What has the money be used for?
"There are so many things happening here and at the Battersea site – including major rebuilding work – so the money has come in really handy. It's been used to take care of the general running of the centre and to help care for the 130 dogs and 45 cats we can have at Windsor."
What are the future plans for Battersea Old Windsor?
"At the moment it's all about maintaining the quality of care we provide and ensuring we're always giving our animals the best. Our buildings are really great so we need to ensure we keep our standards high."
Do you have any pets of your own at the moment?
"I've just rehomed a cat called Polly, who was owned by an elderly lady who couldn't care for her any more. Polly was very shy when she came in and would hide when people came to look at cats for adoption.
"I got to know her though and, now she's back home with me, she's coming out of her shell and being the cat she's meant to be – it's great to see her happy."